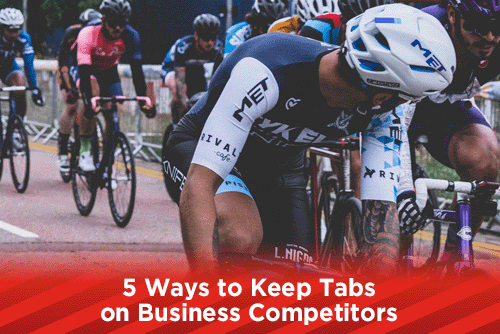 Pepsi and Coca-Cola. Target and Walmart. Nike and Adidas. No matter what the company is, what it sells or how big it is, chances are there will be competition. Competition is the lifeblood of the business world. It keeps companies on their toes and constantly striving for innovation.
If you're in the world of business and marketing, you should know who your company's competition is. Even more importantly, you should be consistently informed on what your competition is doing. If you're not sure where to start with your competition, don't worry. We've compiled a list of five ways to keep tabs on your business competitors to get you started.
1. Set up Google Alerts.
One simple way to keep track of competing businesses is by using Google Alerts. Find out what new information a competitor has online for their products or employees by creating a Google Alerts account and listing the company name. You will receive email alerts with any information involving Google News, releases, mentions and websites related to the alert you establish. Choose your search terms carefully in order to avoid a flood of irrelevant emails, and set up your Google Alerts account with specific accommodations. This way, you can easily keep track of your competitors' activity both online and offline in the news.
2. Deconstruct the site.
Another great place to start researching a competing business is through their website. Once you study a company's website, deconstruct it with a tool such as Fagan Finder or SpyFu. Fagan Finder allows you to enter the company's URL into their website and provides information on other sites which link to it, which can easily reveal alliances, networks, suppliers and even customers. Or, SpyFu can help you research what keywords and Adwords your competitors are buying to use on their website. You could also try WatchThatPage, which monitors specific pages online and alerts you when they are changed. Tools like these can help deconstruct your competitors' website, learn from it and even adopt some of their techniques.
3. Follow them on social media.
Next, keep track of your competitor's brand, marketing efforts, new products, customers and everything in between by following them on various social media accounts, such as Facebook, Twitter, LinkedIn and Instagram. Pay attention to what they post, the messaging they use and even when they post it. You can also track who follows them and mentions them in their personal social media posts. Through social media, you can learn more about your competitors' overall mission and marketing efforts online, while also monitoring their connections.
4. Attend conferences.
Another great way to get to know your competitors? Actually get to know them through local conferences, trade shows and seminars. Learn more about your competition and what they have to offer by attending industry trade shows, conferences and joining industry associations. This way, you can visit competitors' booths to learn more about their branding and messaging, see how they interact with customers, pick up their literature and check out the quality of their products. You could even sit in on a presentation your competitors give to learn some of their "insider business secrets." If trade shows and conferences are public information, why not take advantage of as much info as you can gather on the competition?
5. Ask your customers.
Finally, what better way to learn about your competition than to ask your customers? After all, your customers are the ones who do the research and make the ultimate decision on who they choose to work with. In an interview with Inc. Magazine, Arthur Weiss, managing director of UK-based Aware, stated, "Whenever you win a new customer, find out who they used before, and why they switched to you… Do the same when you lose a customer—identify what they preferred about your competitor." The more information you gather from your customers, the better picture you will gain on the advantages you have over your competitors, and maybe even the advantages they have over you.
No matter what industry you're in or how big you are, building a business is competitive. If you want to succeed, you must be willing to compete. Keep tabs on your company's competitors by using these strategies, and see how your business can grow.
Would you like more helpful print related articles sent to your inbox? Click here to subscribe to our mailing list and receive our bi-weekly article posts every Tuesday and Thursday.