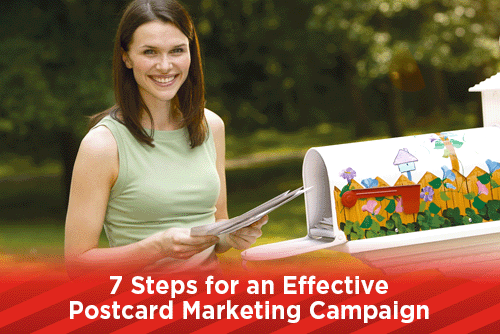 Are postcards part of your direct mail marketing plan? They should be. Consider this, postcards are read by households in greater numbers, with a 3.9% yearly increase. Postcards are cheaper to produce and mail than a catalog, allowing you to target your audience more precisely and have a larger ROI than other direct mail marketing pieces. With all of these benefits, if you are not utilizing postcards in your marketing, start today with these tips on designing postcards.
1 Plan Ahead
Having a good strategy before you begin designing your postcard will help you stay focused on what you want the outcome of the mailing to be. Do you want to generate leads? Promote a product or service? Bring attention to a new part of your business? Knowing the message of your postcard will help you target the audience you want to reach. If you are promoting a product or service, will it be purchased online or invoiced? How will you track the effectiveness of your campaign? Are there other services that need to be in place before you mail the postcards? Who will handle following up with new leads brought in by the mailing? These are just a few of the many questions you will need before you can proceed in creating your postcard.
2 Determine Your Audience
Once you have decided what you want your postcard to do, focus on targeting the proper audience. Postcards are inexpensive, but mailing lists and postage are not. Mailing thousands of postcards to people who would never use your product or service is a waste of time and money. Target people who resemble the clients you already have, or if you are branching out into unknown territory, research the users of similar products or services and target them. Once you have your target audience, you can begin the design work to catch their attention.
3 Choose Your Postcard Size
The size of your postcard is a big factor in your design. Too small and it may get lost in the sea of mail. Too large and you could pay more for postage. To qualify for first class rates with the post office, your postcard should be at least 3.5" tall, 5" long and .007" thick, but no more than 4.25" tall, 6" long and .016 thick, according to the USPS website. Any larger than the recommended size can result in higher postage. Some standard postcard sizes for mailing are 4.25x6, 5x7, 9x6 and 6x11. Depending on the subject of your postcard, you may need one of the larger ones to hold all of the information.
4 Personalize the Postcards
Personalize the postcards if the campaign calls for it. If you are sending out a mailing to a large group, then personalization may not be possible. If you don't want to or can't personalize by name, consider changing the images to local attractions within the zip codes of the recipients. This will help catch their attention and get them to look at the postcard more closely. Be sure to make the personalization look natural and not forced. Involving their name within the design will draw their attention better than just having their name on the card.
5 Have a Clear Call To Action
A concise CTA (call to action) will help the postcard recipients know how to react to the mailing. If can also help you track how effective your campaign was. If you want to generate leads with the postcard, CTA's like "Sign Up Now" or "Act Today" with an easy to use URL that leads to a contact form will work. Promoting a new product or service with a CTA that offers a discount with a coupon code can get better results than just showcasing the product/service. Try to clearly state the steps needed to get to where you want them to go, but keep it very simple. Remember, you only have a few seconds to grab their attention before they toss the postcard in the trash.
6 Include a Return Address
This may sound like a no-brainer, but be sure to include a return address. If the mailing address is incorrect on your list, the postcard will come back undeliverable. Any returned mail will help you clean up your mail list so you can save money on the next campaign if you use the same list. The return address area does not need to have your contact information, only your mailing address. Find another area to place your contact info, but if you are tracking the campaign with a unique URL, you may not want to put your web address on the postcard.
7 Track Your Results
If you are not tracking the results of your direct mail campaign, how do you know its effectiveness? Tracking not only shows you how your campaign is doing, but it will also let you see how hot or cold the market you are in is. Depending on the results, it will help you plan your future marketing campaigns. There are a few different ways you can track print advertising.
Offer Promo Codes
Promo codes are great for offering discounts on products or services. When using a promo code on your postcard, keep the codes short. No one wants to enter a 20 alpha and digital code. Include the codes in your call to action like "Save 10% off your next order with code 'PPRINT10'." This tells the recipient exactly what to do and what they will get with the code. Be sure to keep up with your promo codes in a spreadsheet so you don't have duplicates. If you accept orders online, check with your online storefront to make sure it accepts promo codes before you implement them in your campaign.
Landing Pages
Using a unique landing page on your print advertising is an easy way to track the usefulness of the postcard. Make your landing page URLs easy to type in like "myhomepage.com/savebig." If you can not avoid a long URL because of your website setup, use a link shortener service like Bitly.com to make the URL easy to type in. Be sure to keep the landing page out of any menus on your website. When people visit the landing page, and the only place that URL appears in on the postcard, then you know for sure that they received the postcard and entered the URL. Depending on your website and hosting, a landing page may be easy to create. If you have to have an outside source create and monitor the landing page, it may be too large of a cost to be effective.
Unique Phone Number
Another option to track your print advertising is using unique phone numbers. Online services can give you unique phone numbers to use and track. It would be expensive to use a unique phone number for each individual marketing campaign, but keeping track of which phone number is used and the time frame of the campaign will give you a good idea of the effectiveness and let you calculate your return on investment ROI.
Ask Your Customers
Asking customers how they heard about you or your product is a great way to see how all of your marketing campaigns are working. It's also a good way to get a conversation going and to guide them to another product or service that they may not know about.
With all of the benefits of postcards, low prices, easy to track effectiveness and mailing costs, if you are not taking advantage of this marketing tool you may be wasting money on other sources. To find out how we can help you plan and execute your next postcard mailing, contact us at info@myprintsouth.com.
Would you like more helpful print related articles sent to your inbox? Click here to subscribe to our mailing list and receive our bi-weekly article posts every Tuesday and Thursday.