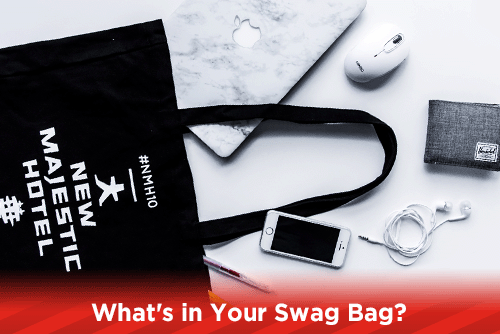 After the 2018 Oscars, the term Swag Bag received a ton of publicity. What sparked the flurry of news releases and social media posts? The strong six figure price tag of the merchandise given away in the "everyone wins gift bags." The company that puts the bags together and gives them out is not affiliated with the Oscars or the academy of motion picture arts and sciences, but is instead a marketing company. They gather high end products and give them away to celebrities, counting on the popularity of social media posts to build up excitement for the products.
Your company may not be able to put together a six figure swag bag to hand out at your next trade show or event, but by choosing unique ad specialty products, you can still create a good social media buzz. Here is a look at how to choose items to go into your bag, and some examples of unique product ideas.
Begin with A Great Bag
Before anyone even sees what is inside of your swag bag, they are checking out the bag itself. Choose a great looking bag to begin with. The Cotton Canvas Boat Tote Bag features a front pocket and a full zipper gusset top with an area perfect for your logo. Using a canvas bag gives you the strength needed to add heavier products. The nice thing about a good solid bag to put your swag into, is the likelihood that the bag will be used again outside of the trade show or event. Tote bags are used all of the time for grocery shopping, carrying books and other uses.
Don't Give Out Junk
When choosing products to give away in your swag bag, don't skimp on quality over quantity. Give out products that are a good representation of your company. If you give out cheap products, then your company and brand will be associated with cheap products. You want people to enjoy and use what you are giving them. Good, unique, quality items might even get your company a social media shoutout, and you want as much good social media exposure that you can get.
Know Who You Are Giving To
Research the people who are attending the trade show or event that you are passing out swag bags to. If you are an exhibitor at this years Mobile World Congress Americas 2018 in LA, you know that the visitors there will be into technology, innovation, media and entertainment. Handing out pens and mugs just won't do it. Instead, go high tech with High efficiency fast wireless chargers or the Charging Essentials Mobile Power Set. Cater to the crowd with targeted merchandise that they will enjoy and use. Even better, match your ad specialty products in your bag to the theme of the trade show or event.
Have Other Products On Hand
Don't rely totally on just your swag bag giveaways. Have other products on your table that people can pick up including a good amount of business cards. Any time you make a connection talking with someone, be sure they get some kind of product before they leave. Pens, cups, koozies, hand sanitizer, and t-shirts are all great ideas to pass out apart from your swag bags.
Other Areas for Swag Bags
Trade shows are one of the many areas that you can hand out swag bags. Other ideas include:
Proms - give out bags before and during the event. The before bags can include discounts for suit and dress rentals or beauty makeovers
Fun Runs/Walks - a great opportunity to hand out active gear, like water bottles, that people will use throughout the year
Fundraisers - giving a swag bag away to attendees of a fundraiser is a great way to show your support for a cause
New Employees - welcome your new employees with a gift bag of top notch ad specialty products including t-shirts or polos with your embroidered logo
Thank You Bag - keep the buzz going by offering thank you bags to your clients/customers
School Events - back to school or sports games are perfect for your company to team up with the local high school to give out fan based swag
10 Great Swag Bag Product Ideas
No matter where you give your swag bag away at, finding good, quality items to fill it with can be tough. Here are a few product suggestions we have people love to receive:
Presidential Journal  - Simulated mole skin soft cover with rounded corners, 96 sheets of lined perforated paper, ribbon place marker, elastic strap closer and pen holder, ruled white paper
Yoga Mat  - Ultra thick with anti-slip, anti-fire material. Ideal for yoga exercise, gymnastics or a picnic. A variety of sizes and colors are available.
Seeded Paper Cards  - Seeded paper cards printed on recycled paper embedded with seeds. Plant the card to grow wildflowers. A great way to make any occasion "green." Cards are packed 25 per box with 26 envelopes included.
Self Defense Pen - Stay safe with the self defense tactical pen. Includes glass breaker and made of heavy duty aluminum.
Tech Taco - Cord Keeper  - Our tech snaps are a great leather accessory designed to keep your charge cord for any device neat and organized. This product works with headphones or small extension cords - anything you want to keep out of the way! We offer several different styles and shapes, all with stylish solid-brass hardware to keep your item secure.
Cork Base Ceramic Mug  - Make sure your brand is here to stay with this 14 oz. cork base ceramic mug! The cork base protects hands and surfaces from the heat while your company name, logo and advertising message are on display for everyone to admire.
Brookstone® Vital Power Bank  - Recharge your electronic devices when you are on the move with this Brookstone® portable power bank! This power bank features a rechargeable lithium battery that charges to full capacity in 9-11 hours. It's 10,000 mAh with dual 1A and 2.1A output; UL 1642 and UL2056 certified. Brookstone ® box and a USB recharging cord included.
Sling Grips - The Sling Grip comes mounted on a standard instructional card, custom cards available with full color on the back. Full color dye sublimation printing on the elastic band with your choice of colorful base mounts. Attaches to any phone or case with 3M peel/stick removable adhesive (included).
Multi-Functional Cooling Towel - Work out or play sports in style with our new dye sublimated cooling towel! Printed with our stunning full color dye sublimation process, these cooling towels sure to impress at any gym, athletic or sporting event.
Customized Laminated Non-Woven Tote Bag - These bags are great to hold all of your swag. Maximize brand impact with a bag featuring full color and full bleed printing. Please the crowd with help from this full color, completely customizable, bag measuring 14"w x 16"h x 6"d with 20" with non-woven handles and non-woven piping This practical promotion on-the-go bag is made of 120g laminated non-woven polypropylene..
There are a ton of products available to fill your swag bag to the brim! Take the time to research where and who you are giving the bags away to in order to fill them with product that will be used over and over. The worse thing you can do is spend money and time filling your bag with items people will never use. Don't waste your valuable marketing dollars on cheap junk. Give generously and choose products that will generate a buzz about your company.
Would you like more helpful print related articles sent to your inbox? Click here to subscribe to our mailing list and receive our bi-weekly article posts every Tuesday and Thursday.