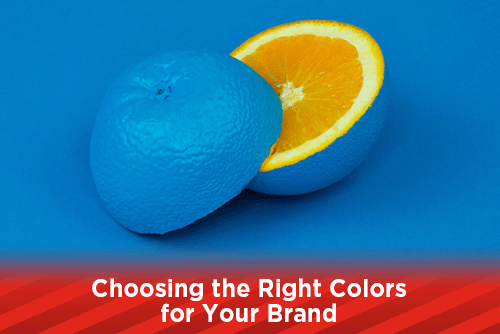 Every aspect of your brand is important. The logo you create needs to reflect what your brand represents. The typestyle you choose needs to work in conjunction with your logo. The colors you use are very crucial in establishing your brand. Here are some steps to think about when choosing the colors for your brand.
Understanding How Colors Make Us Feel
We humans have a deep relationship with colors. Colors affect us emotionally and sometimes even physically. Choosing colors for your brand that go against how we feel can cause unwanted reactions from your customers. Take for instance restaurants. Interior colors for restaurants should be natural or muted colors,  bright neon colors do not work. Neither do reds or blues as bright reds can increase your heart rate and blues make us thirsty. Oranges, yellows and greens work best for restaurants because they are more associated with food.
Here is a list of common colors and the feelings they give us:
Red — passion, importance, attention
Orange — playfulness, friendly, vitality
Yellow — happiness, optimism, warning
Green — nature, stability, prosperity (growth)
Light Blue — tranquility, trust, openness
Dark Blue — professionalism, security, formality
Purple — royalty, creativity, luxury
Pink — femininity, youth, innocence
Brown — rugged, earthy, old-fashioned
White — clean, virtuous, healthy
Gray — neutrality, gloom, subdued
Black — powerful, sophisticated, edgy
When choosing colors for your brand it helps to understand how these colors affect us and pick the ones that work best for what your company is about and how you want people to feel when they see your logo/brand. Here is a look at a few different colors and the major companies that use them as the primary color for their brand:
Red - Netflix, CNN, Coca-Cola, Toyota, Nabisco
Yellow - National Geographic, Best Buy, McDonalds, Hertz
Blue - Facebook, Ford, Walmart, GE
Orange - Harley Davidson, Gulf, Discover
Green - Hess, John Deere, Starbucks, Holiday Inn
Purple - Yahoo, Taco Bell, Hallmark, Wonka
How Many Colors Does Your Brand Need?
When choosing colors for your brand logo, the maximum number of colors needs to be three. Two is the most common choice when it comes to logos. Pick a dominant color, an accent color and base color, if you are only picking two colors, the base color can be left off.
Common Color Schemes To Help
Monochromatic - as the name states, this scheme utilizes only one color throughout the design. Hues and shades of the color can be used to simulate the look of another color. If your brand is strong and wants to focus on one main personality strength, a monochromatic scheme will work.
Analogous - looking at a color wheel, colors that are next to each other are analogous colors meaning that they give off similar emotional feelings. Using an analogous scheme is safe and easy to do, but usually doesn't create a logo that will stand out very well.
Complementary - these colors are directly across from each other on a color wheel. Complementary colors work very well for brands because they offer a very stimulating visual look. Many companies utilize this type of color scheme.
Triadic - this scheme pulls from three areas of the color wheel in a triangle shape. It can be tough to find the perfect three colors that represent the voice of your brand, but choosing colors using the triadic scheme will give you a nice look.
Where To Find Colors
There are some great resources online to help you choose colors that work together. Colourlovers.com lets you search for user created color palettes by colors. If you search for the color red, you will see many different palettes to choose from. Clicking on the palette will give you an RGB and Hex code breakdown of all of the colors in the palette. Adobe has its own color selection site color.adobe.com. Here you can select a color and choose to show the different scheme mentioned above (analogous, complementary, etc). If you want to see palettes that others have created, click Explore in the menu bar. When you find a palette that you like, you can download it and import into your Adobe program. It will load the palette as RGB colors that can be adjusted to CMYK.
Another good tool to use online is colorexplorer.com. A great feature about this site is the ability to upload an image and it will give you a color palette from the colors used in the image. This is great if you need a nature color palette and have a beautiful image of the mountains, a green field, or leaves full of fall colors.
Using the Correct Colors
Once you have a palette of colors for your brand, be sure to use the correct color breakdown for the correct medium. Your base colors for your brand should include Pantone colors. You want your logo to be at least two PMS colors, if not three. Using Pantone colors will allow you to have color control over your logo no matter where you print it. After you have selected your Pantone colors, you need to include how the colors will print in CMYK, how the colors will look in RGB and in Hexadecimal (Hex) format for the web. Pantone's website can help you with these breakdowns. Just search for the PMS color you have chosen and the RGB, CMYK and Hex values will be shown. Be aware though that there are some PMS colors that can not be represented well in CMYK (read this article to understand why), so you may have to adjust your CMYK build to get close to the color you have picked.
Be Aware of Cultural Differences
One last note about choosing a color for your brand. Certain colors can mean different things in other cultures. For instance, yellow. In America, it represents happiness and optimism, where as in Japan it represents bravery. Unfortunately, in China, yellow represents pornography. You need to be mindful of these differences when choosing your brand colors if your company plans to do business in another country.
Building your brand is an exciting time for your company. Creating a new logo and style to represent the voice of your company takes some time to get right, and as you grow, that voice may need to change in the form of a new or revised logo and style. We would be glad to help you by having one of our brand experts work with you on choosing the right colors for your brand. Please use our contact form on the graphic design page of our site to contact us.
Would you like more helpful print related articles sent to your inbox? Click here to subscribe to our mailing list and receive our bi-weekly article posts every Tuesday and Thursday.