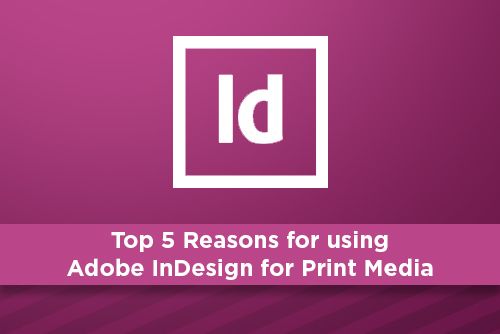 1 Adobe Cloud
Gone are the days of having to upgrade your software every year or so with high priced updates. Not only does Adobe Cloud offer subscription based software for their core design apps (Photoshop, InDesign, Illustrator and Acrobat) but they also give you access to their entire software library including Dreamweaver for web coding, Premier for video, and Bridge for digital asset management. All for a reasonable monthly price.
2 Ease of use
Adobe makes working in InDesign and it's other apps easy by using many of the same keystroke combinations. When copying and pasting, using command/control + c and command/control + v works across all of their applications. Understanding where the different menus are in InDesign, helps you find the same ones in Illustrator. An extremely useful feature is the ability to copy from one application and paste into another without having to export as an eps or other file.
3 Market Standard
Yes there are other page layout applications out there, Quark Xpress, Publisher for pc and Scribus, but most print shops are using Adobe InDesign. Using the same software as the place you will be printing your work allows for fast and easy updates or changes. Although most printers use a pdf workflow, you can still send them your native files (output, fonts and supports).
4 Made for Printers
The trifecta of Adobe software uses Photoshop for images, Illustrator for vector art and InDesign for page layout. You can do page layout in Photoshop and Illustrator, but InDesign gives you more control over text and graphics . Once your project is complete, InDesign allows you to export a pdf that meets your print shop needs, including high resolution images, bleeds, crop marks and slug line area.
5 PDF Workflow
Many printing companies utilize a pdf workflow, meaning you only have to send them a high resolution pdf with bleeds of your print job. Adobe InDesign gives you plenty of choices when you export your pdf, including the option to compress images to 300 dpi for print. A very convenient tool in InDesign is the ability to export pdf presets that clients can load into the app and export press ready pdfs easily. Click here to download our PDF Export Options to export to our standards.
Stay up to date by subscribing to our mailing list.