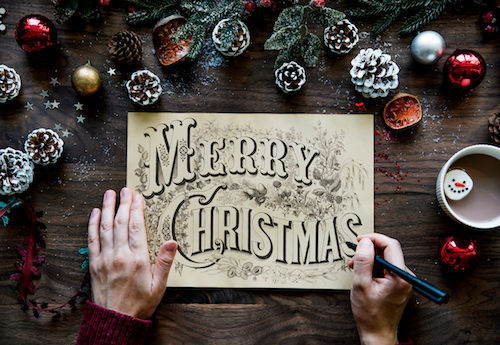 The holidays are officially here, which means Christmas is only seven days away! As a professional individual or small business owner, you know the importance of the holiday season when it comes to promoting your business and growing your efforts.
All of this means you only have seven more days before the end of the Christmas season and consumers move on to 2018. Luckily, we've got you covered. If you're the procrastinating type—or even if you're not—we have seven last minute Christmas marketing ideas you can start taking advantage of today.
1. Add Christmas to your branding.
If you haven't already, be sure to include Christmas or holidays in your marketing and branding efforts. Not only does this personalize the business, but it also catches consumers' eyes and makes them more excited to try out the product or service. Include Christmas in your branding efforts throughout your physical and online appearance.
2. Offer social media exclusives.
Speaking of online, social media will be your best friend for these next seven days. Offer up special exclusives and promotions for your social media followers only. Social networking is a great way to get information about your holiday promotions out quickly and efficiently, so use this effectively by offering up deals and competitions for followers.
3. Give a gift with a purchase.
Run a promotion for this next week that includes a small gift with every purchase. Everyone loves free stuff. A sale like this will get your business into the holiday spirit and encourage consumers to buy. After all, it is the season of giving, right?
4. Up your holiday hours.
With the holidays here, hours tend to be all over the place. Increase your business hours over the holidays and then tell people about them. Post your new hours on your website, on social media or through email marketing efforts. The more availability and accessibility a business has over the holiday season, the better the results will be.
5. Decorate your store.
Decorating goes hand in hand with branding. If you own a brick and mortar store, then get in the Christmas spirit by decorating over these next seven days! People will love the cozy additions and feel more inclined to come in and check out your goods. Or, if you're based online, do the same for your website and social media efforts. Go all out with fun and festive decorating.
6. Create urgency with ads.
Urgency in advertisements encourages consumers to try this deal now, and can generate fast and effective growth results. Include urgent language in your advertising toward the end of the year and put an end date for any sales or promotions you run.
7. Host an event.
Finally, one of the most fun and effective Christmas marketing ideas: host an event. Host an event within your store or with others in your community for a fun Christmas party where consumers can get to know your brand better and feel encouraged through a more personal relationship.
With seven days left until Christmas, the holiday season shopping mayhem is about to come to a close. Are your marketing efforts capitalizing off of it? Try out these seven ideas to push your marketing even further in the end of 2017 as we look forward toward 2018.