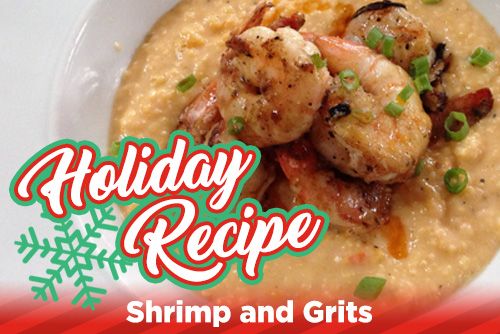 Here are a couple of holiday recipes that our employees prepare during the holiday season. If you try one, let us know how it turned out. Happy Holidays!
Christmas Eve Shrimp & Grits
(Pam Brown pam@myprintsouth.com)
This has been our Christmas Eve dinner, after attending Christmas Eve service, as far back as my sons and I can remember. We take the country ham not used in the shrimp mixture for biscuits and add a fruit salad.
Serves 6
Shrimp Mixture
4-5 slices thin (biscuit cut) country ham
Onions, celery, red & green peppers, chopped
4 tablespoons butter & 4 tablespoons flour
1 can chicken broth
1 chicken bouillon cube
1/3 can tomato paste with 1/2 cup water
1 teaspoon Old Bay and 1/2 teaspoon pepper
Fresh or ground thyme
1 1/2 - 2 lbs fresh peeled shrimp
Brown ham (may have to use a little olive oil as country is usually lean). After browning, set aside. Scrape ham mixture from bottom and side and melt butter then add flour to make a roux. Stir constantly so it doesn't burn, until the color of peanut butter or darker, the darker the better. Meanwhile saute the vegetables in a little olive oil and add to roux pan after desired brownness of roux is achieved. Stir together then add broth, tomato paste, bouillon, Old Bay, pepper and thyme. Heat on medium until almost comes to a boil then simmer for 20 minutes and turn off for 15-20 minutes allowing the flavors to mix. This step can also be done in advance and reheated to medium temp before adding shrimp. Wash peeled shrimp and make certain they are all approximately same size. 10 minutes before meal, add the shrimp to the heated mixture until shrimp turns pink - do not overcook! Once the shrimp are cooked, turn off and allow to sit for 5 minutes.
Grits
1 cup stone ground grits (we prefer yellow)
1 bouillon cube
4 cups liquid - I use 2 cups half & half, 1 cup water & 1 cup milk
2 tablespoons butter
Cook grits and allow to sit for a couple of minutes to thicken. While still hot, put the shrimp mixture over grits. If not using the country ham in biscuits, you can chop and top the shrimp & grits. We add sharp grated cheddar as well! Enjoy!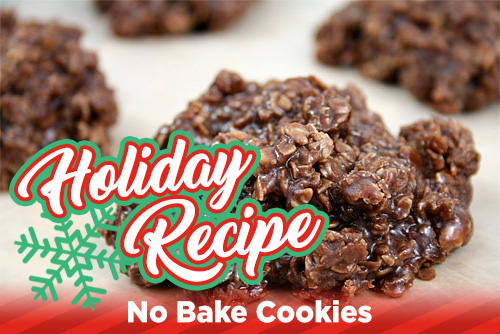 No-Bake Chocolate, Peanut Butter and Oatmeal Cookies
(Renee Strickland renee@myprintsouth.com)
3 1/2 cups dry quick-cooking oats, divided
1/2 cup peanut butter
2 teaspoons vanilla
1 stick (8 tablespoons) butter, cut into pieces
2 cups sugar
1/2 cup milk
4 tablespoons cocoa
1. Place several sheets of wax paper on your counter or kitchen table.
2. Measure 3 cups of oats, the peanut butter and the vanilla into a large heatproof bowl. Set aside.
3. Place the butter, sugar, milk and cocoa in a small saucepan. Give them a quick stir. Tum the heat on high, and leave the mixture alone. (No more stirring.) Bring the mixture to a full, rolling boil, and let it boil for exactly 1 minute. Remove immediately from the heat, and pour the chocolate mixture over the oats and peanut butter.
4. Use a large wooden spoon to quickly stir the ingredients together. (If the mixture seems runny or it's a very humid day, stir in the remaining half­ cup of oats.)
5. Working with two spoons or a small ice cream scoop, drop the mixture by tablespoons onto the wax paper.
6. Let the cookies cool until set.
Stay up to date by subscribing to our mailing list.