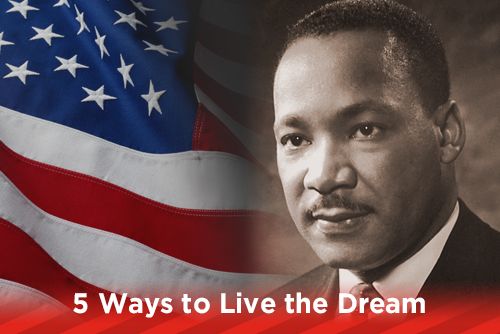 As we celebrate the life and legacy of Dr. Martin Luther King, Jr., we must ask ourselves: What now? MLK Day 2018 is here and we will celebrate, and participate in walks, and watch parades but when the date has passed how will we continue to live the dream. Here are 5 ways we can actively live the dream of Dr. Martin Luther King, Jr. in our daily lives.
Advocate for Fellow Mankind
"I have a dream that one day this nation will rise up and live out the true meaning of its creed - we hold these truths to be self-evident: that all men are created equal."
Black or white, rich or poor, man or woman, we are all created equal. Strive for equality for all mankind in everything that you do. Speak out against injustice and advocate for equality.
Lead by Example
"In the process of gaining our rightful place we must not be guilty of wrongful deeds"
Dr. King urged for us to maintain peace. Often remembered for his non-violent stance, he taught us that combating negativity with kindness can go a long way. As Dr. King led the march on Selma, he led by example and allowed us to see a firsthand example of how one can take a stand without raising a hand. Make the choice to do the right thing daily and lead by example.
Have Fortitude
"I say to you today, my friends, that in spite of the difficulties and frustrations of the moment, I still have a dream."
Don't stop living the dream. When things go wrong, as they sometimes will, when the road you're trudging seems all uphill, when your back is against the wall and you feel as if those around you have forgotten how to live out Dr. King's dream, hold tight to the dream with fortitude. Advocate louder, love harder and dream your wildest dreams.
Embrace Your Differences
"I have a dream that one day on the red hills of Georgia the sons of former slaves and the sons of former slave owners will be able to sit down together at the table of brotherhood."
Our differences are what make us a wonderful country. Different people of different backgrounds and cultures coming together to make an eclectic yet well-oiled machine. Whether they look different or sound different or make choices that you don't understand, make the effort to learn and embrace the differences of those around you.
Remember the Golden Rule
I have a dream that my four little children will one day live in a nation where they will not be judged by the color of their skin but by the content of their character."
Sometimes it's easier said than done. We've been told our entire lives to do unto others as we would have them do unto us. To truly achieve the dream of Dr. Martin Luther King, Jr., we should judge each other by the content of their character, but not before we examine our own.
As we remember the life of Dr. Martin Luther King, Jr., we commit to actively celebrating is life by living the dream daily, in every way we can.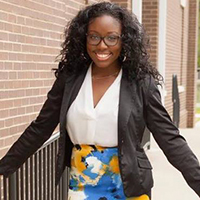 Anika Cobb currently serves as the Director of Public Relations for Morris College in Sumter, SC. She is a communications strategist who holds a Bachelor's degree in Communication Arts from Johnson C. Smith University and is currently pursuing a Master's of Science in Strategic Communication from Purdue University. She loves connecting companies with the community and works passionately to do so. Devoted to public service she is active in her community and strives to be a walking example to her peers of how to reach your goals and give back at the same time.
www.morris.edu
LinkedIn Profile
Stay up to date by subscribing to our mailing list.