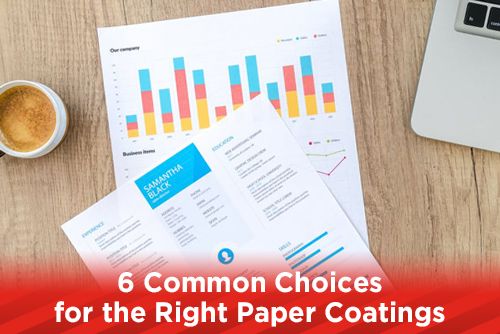 Color is a huge factor in offset printing but another major factor in how good or bad your project will look is the paper that it is printed on. In this article, we will look at the different types of paper coatings and how they can affect your print.
There are all kinds of papers out there for you to choose from. 100 lb. uncoated text weight, 80 lb. coated cover stock, 120 lb. matte cover, 100 lb. silk cover, plus thousands of other weights and textures. Knowing how the coating of the paper you are printing on reacts with the ink will give you a good idea in choosing the right paper for the right project. Here are some of the most common coatings of paper.
Coated Gloss
A coated gloss paper is paper that has had a glossy coating applied when it was made by the paper company. This glossy coating allows the paper to have a reflective shine to it and will help your images or graphics stand out. The coating on the paper also allows the ink to sit on top of the paper and not be absorbed into it. Use this paper for postcards, magazines, flyers, posters and many other projects where you want to grab the attention of the viewers.
Coated Matte
Like coated gloss papers, coated matte papers have a coating applied when made, but matte coating has a duller look to it. When using a coated matte paper, the ink will again sit on top of the paper, but instead of the shiny look glossy paper gives you, your images will look a little flatter and not pop as much. Printing on coated matte paper is good for rack cards, greeting cards, business cards and projects that users might write on.
Coated Satin
Another coating that can be applied to paper at the manufacture is a satin coating. This coating is in between glossy and matte in its shine and can help your images and graphics stay sharp and vivid. Papers with this coating are best used for trifold brochures, flyers and other projects that will be used in doors.
Uncoated
Papers without any kind of coatings from the manufacturer are uncoated papers. Uncoated paper allows the ink to soak into the paper, so be careful when your ink values are too high. High ink value can prevent the ink from not drying quickly and causing "offsetting" or ink smudges. When printing on uncoated papers, using a lower screen value (150 dpi) helps give you a cleaner, crisper look to your images. Print on uncoated papers when you have a bunch of text or outlined graphics. Color images may look muddied when printed on uncoated papers.
Uncoated Laid
Laid papers are made using horizontal and vertical lines to create a texture similar to hand-crafted paper used in the past. Laid papers are more expensive than other uncoated papers, but if your project benefits from the added texture, this paper is a great choice.
Uncoated Linen
Linen papers are another textured uncoated paper created with an embossed crosshatch texture that resembles a linen tablecloth in look and feel. Both linen and laid papers are used for letterhead, menus, stationery or when you want an elegant and classic look.
When starting a project, get in touch with your print company and look at the types of paper coatings they are using. All paper companies provide the printers with sample books showing the texture and feel of the papers as well as printed books so you can see how ink reacts to the paper.
A Print-house can also add different varnishes and in-line coatings to the paper you choose adding another layer of protection and look to your printed project. Spot varnishes can help your images or graphics stand out more and draw the eye of the viewer to certain areas of your print.
Your choice of papers can help your project stand out from the crowd and provide your the look and feel you are going for.
Stay up to date by subscribing to our mailing list.