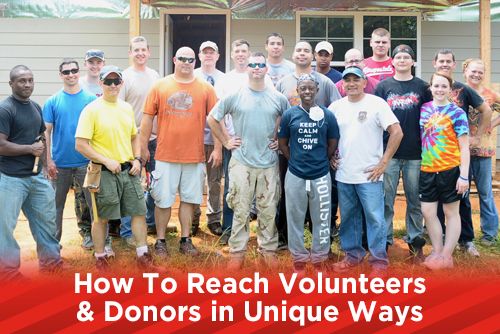 In January, we posted about Community Service and the Decision to Make a Difference, giving you some reasons and ideas on serving your community. We print for many non-profit companies in the area and wanted to pass along some tips we have come across on creative ways to reach volunteers.
Host Local Events
Create an atmosphere of fun and celebration when hosting your local events. Let people know that volunteering is for a serious cause, but have fun getting people to sign up. Your imagination is the limit when coming up with events to host. Throw a block party with local businesses, artist and bands; host a chili cook off with local celebrities as judges; set up a sports tournament at a park or school.
Contact Schools
Make use of high school juniors and seniors looking for community service hours by speaking to your local schools principals. Ask if you can pass out flyers or put them on the walls during open house or sporting events. Don't forget about colleges and trade schools. Many students may not have a bunch of time to give, but chances are they would be willing to give up a Saturday to help around the area.
Get Social
Always post images or videos from your volunteer events. Include information on the people you are helping and the needs you are providing for them. If you are cleaning an area or fixing up homes, show the end result with your volunteers. Share these pictures and videos on Facebook, Twitter, Flickr and Instagram. Hold polls or contests and engage in conversation with people who comment.
Encourage Diversity
The best volunteers have a huge range of diversity. Working side by side with someone from a different culture or someone older or younger than yourself can result in not only making a difference, but learning about others too. Having a more diverse volunteer group can also help bring in a wide range of ideas. Ask someone what they learned about another volunteer and use that information to pull others in.
Give Away Free Schwag
People love free stuff! Offer a free t-shirt or tote bag to draw volunteers in. Having your logo, contact info and website on your schwag will help promote your cause also. If your entire volunteer crew is wearing the same shirts then it is easy for anyone with questions to find someone to ask. Your photos and videos will have a more professional feel to them also.
Recruit Families
It's great when mom or dad volunteer to help out, but it's even greater when you can get the whole family to volunteer. Having a family working together side by side with a wide range of diverse people, helping others to achieve a common goal, can really bring a family closer together. And they will always be able to share a wonderful memory as the kids get older.
Hold a Contest
Offer a gift card or gift package for volunteers after the event is over. You could offer the drawing to everyone involved, or narrow it down to different categories like most hours logged, or most helpful worker. The more memorable the gift the better chance to recruit more volunteers.
Finding and keeping good volunteers is always a chore. Building a team of volunteers who are passionate and dedicated to your cause will always be your best bet. Use your current team members as recruitment officers and ask them to help spread the word through their social media accounts also. Provide them with graphics and verbiage to keep your message and brand consistent and professional looking.
It's a tough job leading a volunteer project and it's easy to pass over the volunteers helping out. Be sure to speak to your volunteers personally and to check up on them during the volunteer event. You want to make sure that your crew has all the necessary equipment to do the best they can. A happy, satisfied volunteer will be willing to volunteer again and to spread the word.
Stay up to date by subscribing to our mailing list.