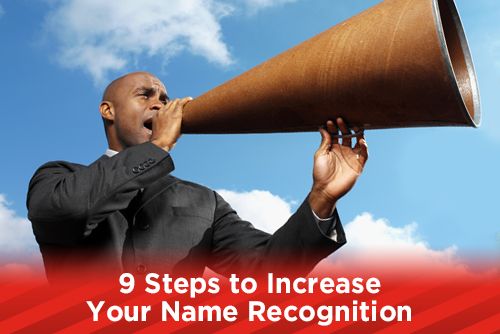 Looking for ways to increase your brand awareness and name recognition? Start using these steps today!
Be Social.
Do not just post article and links on your social media sites. Be engaged. Comment on other people or businesses posts. Don't ignore comments on your own posts either.
Find groups on Facebook or Linkedin to join and add value to. Don't just consume, but be a part of the movement. Be professional with your comments and control your tongue. Don't lash out at people with different views as yours.
Comment on other blogs. Being social takes time and effort. Find blogs that interest you and are a part of your prospects culture and begin adding to the community of the blog.
Add a blog to your own site.
Blogging on your own site is a great way to build name recognition. Write articles on topics that your buyers are searching for. If you are not a writer, consider reaching out to local writers through Facebook, Linkedin, Craigslist or Reddit. Also look for other professionals within your expertise to guest blog on your site. This will provide a larger audience than you are use to reaching.
Publish an E-Newsletter.
Adding an E-newsletter to your site helps you build a list of people interested in the topics you know about. Publish your newsletter monthly with updated content and/or specials to promote your brand. Use your logo in the masthead and footer areas to build brand awareness.
Tell stories.
Connect with people on a personal level by telling stories of how your product or services helped others. Seeing different ways you have helped others will spark new ideas about your product or service in different people.
Have great customer service.
A quick scroll through Twitter and you can see companies that have bad customer service. Users are quick to point out troubled areas or bad products. Strive to be a company that is quick to help satisfy your clients when trouble arises. If an order is wrong, offer a discount on future orders or give out free products.
Stay focused.
It's easy to get bogged down with so many ways to gain exposure. Keep your end goal always in mind with everything you do online. Make some time to go over where you have been and where you are now. Create and follow a guideline for self promotion. Identify areas you want to be and how to get there. If something is not working, change it. Don't keep wasting energy, money and time if there are no results. Always try new ideas, watch how people react and expand from there.
Vehicle Wraps.
A great way to get exposure locally is with a vehicle wrap. This method works best if your vehicle is on the road most of the day. Delivery vehicles are the best. Be sure to have your logo, phone and web address prominently displayed. Bright, eye catching graphics will help catch someone's eye. The more people see your vehicle, the more they will remember your brand.
Hold or sponsor an event.
Sponsoring an event like a run or walk can help you reach a wide range of people. Most runs will have promotions that you can add your logo to, or will offer a race day package you can put promotional material in. You could also hold a cookout or meet and greet at your place of business. Send invites to your current clients and potential ones to get a larger audience. Having an event at your business will give you valuable one on one time with potential clients.
Free Giveaways.
Promoting your brand with free schwag is a great way to increase your brand awareness. Placing your name, logo, phone and web address on t-shirts, tote bags, pens, tumblers, koozies and other products, then giving them away not only excites the person receiving the gift, but also promotes your brand anytime the gift is used. Try and be as creative as you can when selecting an item to give away, but make sure it is something that will be used.
However you choose to promote your brand, be consistent across the board. You want your logo and graphics to match so people are use to seeing your brand. It's best if you have one person to handle all of your marketing campaigns in order to keep a tight rein on everything.
Stay up to date by subscribing to our mailing list.