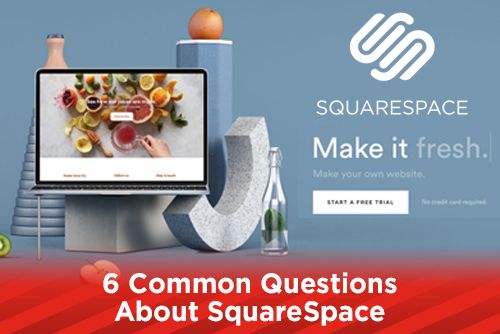 What is SquareSpace?
SquareSpace is a popular online website builder and hosting company. It competes with other online website companies like Wix.com and Weebly.com. Small businesses and companies not looking to hire a full time or dedicated webmaster are the target market for SquareSpace, but the SAAS (software as a service) company is valuable for other uses also.
Is SquareSpace right for me?
This depends on how much time, money and effort you want to put into your web presence. Small businesses can benefit greatly from using SquareSpace. It is easy to setup and get going with the drag and drop feature, and the template selection is not overwhelming. There are also features for ecommerce sites, but if you are looking for a strong ecommerce presence, then SquareSpace may not be the way you want to go. Only recently did SquareSpace add PayPal and Apple Pay to their payment platform.
Will my SquareSpace site look professional?
One thing that helps SquareSpace stand out from the competition is the quality of their templates. Other website building sites offer hundreds of template layouts to choose from. SquareSpace keeps their template choices low so that they can provide you beautiful sites. Most of the templates are very image heavy, so make sure you have quality images. Istockphoto.com and stock.adobe.com are popular image sites you can purchase from. Use pexels.com or pixabay.com for free creative common images if you can not afford to purchase images. A quick search for best SquareSpace examples will give you an idea of how others are using the service.
Is SquareSpace hard to use?
One of the benefits of website companies like SquareSpace is the designer does not need to know any HTML or CSS coding. Using the Style Editor may take a little getting use to, but once you have a handle on it, then it will be easy to keep your site updated. If you compare the Style Editor to learning HTML coding or the multitude of WordPress editors, you'll see how easy it is to create a website in SquareSpace. SquareSpace also makes it easy for you to change the look of your site by offering a range of templates to choose from. You can choose a new template at any time and see how your site looks before setting the new template as your final look.
Does SquareSpace have SEO features?
Building a great looking website is great, but if no one can find it, then it is not serving its purpose. Adding SEO (Search Engine Optimization) features will help your site rank higher when people search for certain keywords. SquareSpace is better at SEO than its competitors. It offers the usual title tags, descriptions and has clean HTML code for indexing, but it also automatically generates site maps that will allow search engine spiders to crawl your site in order to know what the site is about.
Can I use Google Analytics with my SquareSpace site?
Yes. Using Google Analytics with your SquareSpace website will give you beneficial information on your sites visitors. It will show you how many people visit your site and where they are coming from. You can also see what pages of your site are most frequently visited; the bounce rate of visitors (how many visitors only visit one page then leave); what keywords were searched to find your site; and other insightful information that will help you understand your visitors and how to drive more traffic to your website. But do not miss out on the built in analytics of your SquareSpace site. Use both Google Analytics the SquareSpace to really see how visitors are using your site.
In conclusion, you need to look at the value you want your website to achieve before deciding if SquareSpace is right for you. If your small business is looking to put up a small website to bring people to your brick and mortar store, or you want to offer an e-commerce shop that has limited payment processors, then SquareSpace is the perfect fit for your needs. If you are looking for your site to grow with your business, like adding more products or having a members only area, you may need something more expandable than what SquareSpace offers.
One downfall of your SquareSpace site is being able to move from SquareSpace to another hosting company or converting the site to a WordPress site. You are able to move the content over, but the style and look of the site will change. SquareSpace sites look great on their hosting servers, but certain code will not transfer over. So if you decide to move your site to something other than SquareSpace I would suggest creating a whole new site.
Stay up to date by subscribing to our mailing list.