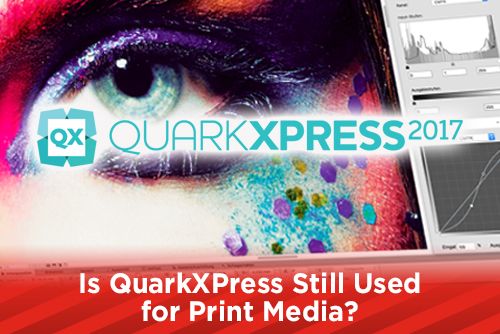 What is QuarkXPress?
A popular page layout program similar to Adobe InDesign. QuarkXPress, or Quark, was hugely popular with desktop publishers, having around 95% of the market share. Unfortunately, they lost many users when an upgrade did not support the Mac OSX operating system. Since that time, Quark has been gaining more support with features to draw users away from Adobe Creative Suite.
Features of QuarkXPress
Quark features the usual typesetting tools as well as more detailed options including applying text to a curve or line and kerning controls. As the program has been upgraded throughout the years, support for layered psd files from Photoshop, and layered ai files from Illustrator were implemented, as well as the ability to copy from these programs and paste directly into Quark. We'd still prefer you save your support files and place them so you can include these files when you package your job and send it to us. Quark has also added features not used by print companies, such as html and epub support. Many of the features included in the upgrades were suggested by designers using the Quark Facebook page.
QuarkXpress vs InDesign
Years ago I would have prefered Quark to Pagemaker, but since Adobe bought Aldus to create InDesign and Quark went through their years of problems, I prefer to use InDesign. If you are just starting out as a graphic designer, and have not been exposed to any software, then the decision would come down to pricing. Adobe offers a subscription plan that allows you access to all of their software including InDesign, Photoshop, and Illustrator, but if you can not swing the $49.99 a month price, you can purchase Quark for a one time cost of $849 (discounts are available for students, teachers and non-profits).
As for the differences between the software, the newest version of Quark allows you to import InDesign and PDF files and manipulate the contents within Quark (InDesign can not open Quark files without buying a plugin). Some items will need adjustment once imported, but overall the conversion is okay. Importing graphics and setting type in both Quark and InDesign is relatively similar, as well as adding drop shadows and other image features.
Print Companies and QuarkXPress
QuarkXPress is still a viable product when designing for print media. The thing to keep in mind when choosing software as a graphic designer, is to look at what you are going to use it for. Are you only designing for digital media or will you also work on projects that will be offset printed? If any of your work is going to be sent to a service company like print shops or sign shops, then you need to be able to produce a file that the service company will be able to handle. Generally a high resolution PDF file will work. If you choose to work only in QuarkXPress, then be ready to make changes and updates to your work yourself. Many service providers do not use Quark or will have an older version on hand.
QuarkXPress seems to be gaining some ground in the page layout game, but with many Colleges and trade schools training only in InDesign, it's a huge uphill battle. Many designers and ad agencies are looking for a lower cost alternative to both software companies and are turning to programs like Affinity Designer. Whatever route you choose to take, always speak with the companies that you will be providing files for and see what they are using. They are the ones who will be able to provide you with help and support when problems arise.
Stay up to date by subscribing to our mailing list.