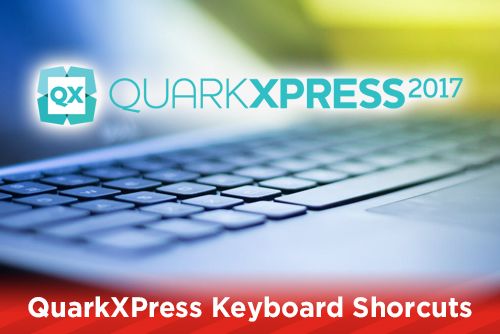 Using keyboard shortcuts for QuarkXPress can help you quickly navigate through the multitude of palettes. The following are commonly used:
New Project Command+N
New Library Command+Option+N
Open Command+O
Close Command+W
Save Command+S
Save As Command+Shift+S
Import Command+E
Export Layout as PDF Command+Option+P
Export Page as EPS Command+Option+Shift+S
Print Command+P
Undo Command+Z
Redo Command+Y, Command+Z
Cut Command+X
Copy Command+C
Paste Command+V
Paste without Formatting Command+Option+V
Paste In Place Command+Option+Shift+V
Select All Command+A
Find/Change Command+F
Paragraph pane Command+Option+Y
Trapping pane Option+Shift+F12
Tools pane Double-click tool in the Tools palette
Style Sheets Shift+F11
Colors Shift+F12
Type Plain Command+Shift+P
Type Bold Command+Shift+B
Type Italic Command+Shift+I
Type Underline Command+Shift+U
Type Word Underline Command+Shift+W
Type Strikethrough Command+Shift+/
Type Double Strikethrough Command+Option+Shift+/
Type Outline Command+Shift+O
Type Shadow Command+Shift+Y
Type All Caps Command+Shift+K
Type Small Caps Command+Shift+H
Type Superscript Command+Shift+=
Type Subscript Command+Shift+ - (hyphen)
Type Superior Command+Shift+V
Type Character Attributes Command+Shift+D
Align Text Left Command+Shift+L
Align Text Centered Command+Shift+C
Align Text Right Command+Shift+R
Align Text Justified Command+Shift+J
Align Text Forced Command+Option+Shift+J
Leading Command+Shift+E
Tabs Command+Shift+T
Rules Command+Shift+N
Center Picture Command+Shift+M
Stretch Picture to Fit Box Command+Shift+F
Scale Picture to Box (Proportionally) Command+Option+Shift+F
Modify Command+M
Frame Command+B
Runaround Command+T
Clipping Command+Option+T
Drop Shadow Command+Option+Shift+D
Duplicate Command+D
Step and Repeat Command+Option+R
Delete Command+K
Group Command+G
Ungroup Command+U
Lock Position/Unlock Position F6
Send to Back Shift+F5
Bring to Front F5
Bring Forward Option+Item > Bring to Front or Option+F5
Send Backward Option+Item > Send to Back or Option+Shift+F5
Go to Page dialog box Command+J
Fit in Window Command+0 (zero)
Actual Size Command+1
Thumbnails Shift+F6 or Option+Shift+F6
Display/hide Guides F7
Display/hide Page Grids Option+F7
Display/hide Text Box Grids Command+Option+F7
Snap to Guides Shift+F7
Snap to Page Grids Option+Shift+F7
Display/hide Rulers Command+R
Display/hide Invisibles Command+I
Check Spelling > Word/Selection Command+L
Fonts pane Command+F6 or F13
Pictures pane Command+Option+F6 or Option+F13
Click here for a downloadable pdf file of these QuarkXPress keyboard shortcuts.
Stay up to date by subscribing to our mailing list.