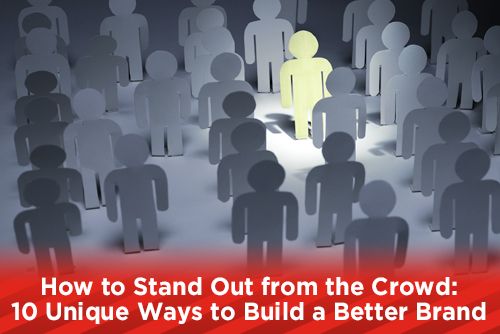 In today's world of sensory overload, it is tough to get your brand to stand out from all of the others. All of the advertising avenues are swamped with established brands or new ones vying for the attention of potential clients. So how can you establish your brand and make it unique? Here are ten actions to help.
Embrace Your Story
Your brand, whether it's you personally or your company, has a unique story. Find the core of what you are and share it with the world. Be authentic and honest, if not, people will know. The journey of your brand, when told authentically, will make a personal connection with people and allow them to see that you are more than just a product or service.
Focus on your Expertise
Determine what you do better than all the rest and focus on that. Knowing what you excel at will take all of the guesswork out of what areas to promote your brand and allow you to concentrate your efforts towards your best assets. Burger King is just another burger chain, but they char broil their burgers. With a different and unique taste, every BK ad mentions char broil, focusing on what they do uniquely.
Share Experiences
Don't just tell about your products or services, instead, show how people experience your brand. Tell stories from the user perspective. Showing how a problem was encountered and how someone used your brand to solve the issue, can create trust in you and your product. Try these examples when telling experience stories: a personal story, how your brand helped you or your clients achieve a goal; a historical story, how your brand connects to points in history; and a "guru" story of how you met someone that passed on their wisdom to you and you are passing it on to your client.
Share Testimonials
Testimonials differ from experiences by presenting the user experience in the users own words. Experiences can take testimonials and expand on them by telling the story. Testimonials usually are sentences or small paragraphs written by people who have used your brand. When sharing testimonials, allow them to be as organic as possible. Letting the person giving the testimonial share their experience in their own words allows others to possibly see someone they know who has come in contact with your brand. Any kind of user rating on social media is a great form of testimonials.
Offer Superb Customer Service
Awesome customer service will always give your brand a boost. People want satisfaction, and they want it now. If your customer service takes care of your clients, then they will always remember that. Treat your clients like you would want to be treated, or even better. It is best to under promise and over deliver. Also, don't be afraid to respond to bad reviews online. Some people are always going to disagree with you, but reply to those comments with facts. If it is something that you got wrong, admit it and make it right. If the person just wants to vent and complain, then tell how you are setting things right for them and if they still refuse, then people will see that you took the correct steps.
Once you start taking these steps to establish your brand, there are a few things you should do to keep your brand focused. Following these steps can help you keep your brand unique across any marketing avenues you choose to take.
Use a Style Guide
A style guide will help you keep your brand fresh and cohesive. Creating and using a style guide looks at every possible use of your logo, slogans, text and colors, and shows people how to execute the right style with the right medium. Your brand marketing will have professional and strong look when you stick to your style guide and not randomly choose how your logo or copy is designed. Strong brands can have many different uses but keep a solidary look throughout.
Be Consistent
Developing a style guide will help you on this front. Staying consistent helps your brand build its awareness in the public eye. If you do mass mailings and all of your pieces are different, you will miss the opportunity to build that recognition in your future client. But, if all of your pieces are developed around one theme, color or layout style, then the leed will notice your brand more. Many strong brands, like Coca-Cola, have remained consistent for years and years.
Review As You Go
If you choose not to use a style guide to direct your brand marketing, then make sure you take the time to review your past marketing. Once or twice a year look over everything you have done and see if your brand is still going in the direction you want it to. If not, the public will see your brand as weak and unreliable. But if your brand, services and products are all consistent and working alongside each other, it will build confidence with the consumer.
Stay Strong Online
Many times, your online presence is one of the first things potential customers will see. They may come to your website from a social media post, or advertisement so you will want to make your best brand feature prominent. If your best feature is customer service, make sure it's easy to find customer experiences on your site. If storytelling is your strong point, then offer videos telling these stories right on the home page.
Start A Blog
One easy way for your brand to stand out is to have a blog on your website. Writing blog articles that are tailored specifically to your target audience will both show your understanding of their needs, as well as the ability of your brand to solve issues users have. Keeping fresh interesting content on your blog will establish it as somewhere people can go to find answers. A blog is also a great way to add content for SEO (Search Engine Optimization).
Building a strong brand that stands out from the crowd takes time and focus. You have to have a gameplan, and stick to it, unless it is not working. Then you have to be willing to change the plan in order for your brand to become known. If you are not willing to change or adjust, then your brand will not survive.
Stay up to date by subscribing to our mailing list.