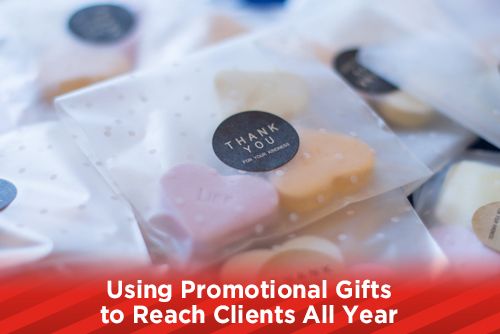 Want to make a mark with your clients and stand out from the rest? Using promotional gifts year round can help you do just that. Let's take a look at some creative ways you can accomplish this and stay on your clients radar.
The Set-Up
No, we're not talking about a clandestine operation. We're talking about the plan you need to have to stay connected with your client. If you are not keeping a record of when and how you stay in contact with your clients, you're missing out on some great opportunities to connect with them. Knowing when their busy times of the year is, or special events happening in their lives, is a great way to plan a drop in to let them know you are thinking of them. Use a calendar to keep track of these times and strategically surprise them with gifts.
If your client has a family vacation planned out of state and they will be driving long distances, consider giving them a Magnetic Metal Cell Phone Holder to help keep their hands free while they drive. Using a touch of humor, give them a Heavyweight Terry Headband before their busy times, and tell them you are cheering for them. Knowing your clients sense of humor will help with your idea choice.
Use Branded Corporate Gifts for Prospects
Opportunities to meet a prospective buyer are everywhere. It could be you met them at a trade show convention, or they may have contacted you after browsing through your website, no matter how your potential prospect enters your sales funnel, you want to make a huge first impression. Using branded corporate gifts will help you make that first impression memorable.
Be creative and keep the target market of your product in mind when selecting gifts to leave behind. Anything you can use to get the person talking about you and your product will help keep you on their mind, but choosing gifts that are fun and memorable work the best!
Give Out Thank You Gifts
Many times we are focused on landing those new prospects that we tend to let our current clients slip under our radar. Using promotional gifts as a "thank you" to clients who frequently place orders is a great way to keep them feeling the love.
Don't just use thank you gifts for large orders. Giving a thank you gift to a smaller client shows that you go the extra mile, and could lead to more orders. If not, at least it could get them talking about you and your product on social media or to their clients and friends.
Take Advantage of the Season
Many advertising promotional products can be used for seasonal marketing. Currently we at the tail end of the flu season, which generally lasts from October to February in the US (but it could last as far out as May). With this in mind, you could hand out tissues, Yummy Round Lip Balm, and 1 oz Scented Antibacterial Gel to help keep your clients healthy.
According to Holidayinsights.com, everyday is a holiday! Today is Bat Appreciation Day; Blah, Blah, Blah Day; National Cheeseball Day and Pet Owners Independence Day. Not great choices for tying into ad specialty products, but May 6th is National Beverage Day. On this day, you could pass out a Thermos(R) Beverage Can Insulator to help keep their beverages nice and cold. Finding creative days to match a gift creates great conversations.
Other Ways to Connect
A gift is nice and many appreciate them, but a handwritten note also makes a memorable impression. Taking the time to be thoughtful and write a note of thanks in today's electronic world really helps connect with clients. Dropping off donuts or warm biscuits from a nearby bakery is another great way to let clients know that you care about them, and a perfect opportunity to speak to other workers, if it's an office space.
Connecting with prospects and current clients all year round is how you make customers go from good to great. Finding opportunities to celebrate your client builds loyalty and makes it easy for them to remember you when your services are needed.
To see our lineup of awesome Ad Specialty products you can use for year round marketing, visit our website at myprintsout.espwebsite.com.
Stay up to date by subscribing to our mailing list.