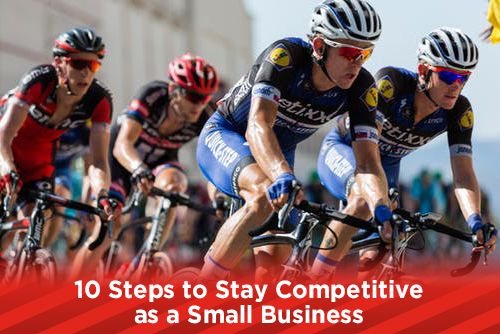 According to the US Small Business Administration (sba.gov), in 2014, small businesses in South Carolina created over 17,000 jobs, employing nearly 760,000 people! If you are a small business owner, that is a lot of competition. How can you stay competitive with this kind of surge in new companies? Here are 10 steps to stay on top.
1 Do Your Research
If you are looking to start a small business, research what is popular and has a good return on your investment. The more people that are buying a product or service will give you a larger audience to market your goods and services to. If you have a business already, research the trends that are happening in your field. Don't just focus on your skills and knowledge of the industry. Hire people that will complement your skill set and fill in the areas that you have less knowledge or experience in.
2 Narrow Your Niche
If your business industry is flooded with competition, consider narrowing down your niche to help you attract more customers. Having a business selling children's toys might be a little bit too broad, but if your product is focused mainly on Kawaii (Japanese for Cute) toys, your target audience is narrowed giving you a better chance at bringing people in. The same goes for your target audience. Everyone can use a usb battery pack, but when you brand it with a college logo or professional sports team logo, you have a specific target audience that you can market and sale to.
3 Make A Plan
After you have researched and narrowed your niche, you need to make a plan. Think of where you want the company to be in the future and write down the ways you plan on achieving this goal. Set both short term and long term goals, and be prepared to adjust them as you need to. Sticking to a failing plan is a sure way to end up closing the doors of your company early. Instead of blindly going forward, review your goals often and keep a checklist of the ones you have achieved.
4 Be Passionate
Stay focused on your dream of making the company a success. Your drive to grow the business can really help your sales revenue and keep you in the game compared to larger companies. Pay attention to the little details in order to stay competitive.
5 Make it Personal
As a small business owner, your company is you. Make it important that you know your clients. Having one on one conversations with people will help you understand the wants and needs of your consumers. These conversations can also provide information about the state of the market your company is in, and lead to ideas on broadening your business ventures.
6 Get Involved
Adding to making your business personal, you need to be involved with the relationships you build. Networking is one of the best ways for you to be involved. Join a group and/or be involved in the community where your business is located. Supporting and sponsoring local teams or projects show people around your company that you support your community and the people who live there.
7 Go the Extra Mile
This one is a must for small businesses. Strive to keep your customers happy. Whether it's the best product you can get, customer service that everyone is happy with, or a sales force that makes their client feel unique, putting time into your clients will help you rise above the competition.
8 Stay on Budget
Creating a budget, and sticking to it, will help you stay competitive by having money to invest back into your company. Staying on budget can keep costs low, allowing you to use the remaining profits to add more products or be creative when marketing. Plus, not owing anyone money at the end of the month will help you stay positive.
9 Stay Prepared
Anticipate and plan for bad times. If your small business has not been through a period of slowness in sales, or growth, that time is coming. Plan now to cover expenses or to reduce time loss when it happens. Also, be prepared for growth. How will you get orders out when they are outpacing supply? Will you bring on more workers to handle a heavier workload or will you exhaust the workers you have? In business, if anything can happen, it will.
10 Advertise
Marketing is one of the best ways that you can keep your small business competitive in today's market. You may not have a multi-million dollar marketing team, but with so many free social media opportunities out there, you can still land a huge following for your business. Viral videos are also an inexpensive way to build your brand. Just don't force social media interaction to happen. Let the consumers spread your message. One thing to keep in mind with social media marketing is you have to be involved. Posting something and not responding to comments will not help your company brand. Ad specialty products are also an inexpensive way to market your company. Everyone loves a great pen that writes smoothly and evenly. Having your logo and contact information on the type of pen that people love to write with can get you some great exposure.
Small businesses are growing and will continue to grow, as long as passionate people with the intelligence and talent to make it happen keep pursuing their dreams. If you are a small business owner who feels overwhelmed by the competition, take some time to reflect on why you began your business. Rekindle the fire you had at the beginning and strive to make your business great.
Stay up to date by subscribing to our mailing list.