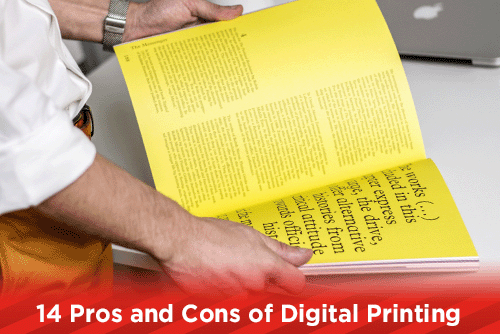 Print has changed tremendously since Johannes Gutenberg invented it in 1439. Modern technology is taking the printing world into the digital frontier with high speed, colorful digital presses. Using digital technology, you can achieve faster print turnaround times, colorful, vibrant prints all at a lower price than conventional offset printing can allow (on short print runs).
What is Digital Printing?
A digital press is a machine that takes your files using a RIP (raster image processor) and translates it to print on paper specifically manufactured for digital presses.
How is Digital Printing different than Offset Printing?
Traditional offset printing uses plates, inks and water to produce your print project on the press. Offset printing allows for the highest quality print with lpi (line per inch) ranges of 150 to 200. With a higher lpi, your images and graphics will be cleaner and sharper. You also have a higher selection of paper choices available with offset printing.
Most of today's digital presses are toner based and use electricity to print on paper. Advances in technology allow for digital presses to image both sides of the paper simultaneously, saving press time. When generating proofs on digital presses, you can print on the paper the job will print on. This allows you to know exactly how your print project will look when finished. If you do not like the look or feel of the paper, it can easily be switched with no press down time.
PRO: Short Print Runs
Having minimum set up times allows digital presses to be your best value for short print runs. Quantities of 2,000 and fewer, depending on paper and other variables, give you lower prices than the same quantities on offset.
CON: Long Print Runs
If your print project has over 2,500 impressions, digital printing is not a good choice for pricing. A longer print run results in a higher click count, driving up the cost on your project.
PRO: Vibrant Colors
Technology today has allowed digital presses to reach the same color gamut as traditional offset presses. Having the same color gamut means that the print from a digital press is almost indistinguishable from offset. A digital press will also print a rosette pattern, instead of Staccato screening, enhancing the offset look.
CON: Simulate PMS
Unfortunately, most toner based digital presses can not print a PMS color. Instead, the press will simulate the PMS color using the Pantone to CMYK values of the chosen PMS color.
PRO: Inline Finishing
A feature that digital presses have over offset presses is the ability to add an inline finisher to the workflow. An inline finisher can fold, three side trim, and staple a saddle stitch book all in the same pass as the print. Some digital presses with inline finishers have the ability to three hole drill, corner staple and side staple. Be aware that each step during the inline finishing process will slow down your production time.
CON: Small Overall Paper Size (13x19)
Offset printing presses can take paper sizes up to 20x28 for half sized presses and up to 40" for full size presses. Digital presses use smaller size paper to help with registration.
PRO: Low Cost
Having a short setup time and not needing plates gives digital printing an advantage in pricing for short print runs. The inline finishing capabilities allowing you to skip bindery cost is another money saving option.
CON: Longer runs cost more
As your print run gets longer, the value of digital printing diminishes and offset becomes a better solution.
PRO: Paper Choices
Paper manufacturing companies are embracing the digital print world and have created papers capable of handling the heat that fusers in digital presses generate. Paper finishes such as gloss, matte and satin are sturdier with digital papers, allowing you to achieve the same look and feel that offset papers provide.
CON: Can not run dark colors
Toner based digital presses can not produce light colors or whites to be printed on darker colored papers. If you are looking to print white on a navy or black paper, you will need to print using an offset press.
PRO: No Gripper Edge
Offset printing uses grippers to grab the paper and pull it through the press. Printing an entire sheet with color on offset is impossible because you need to allow room for the gripper. Digital presses use rollers to move the paper through the press. Although there is still an area that you can not print in, digital printing allows you to print on more of the entire sheet.
CON: Belt drive
Digital presses are generally belt driven. Once the paper leaves the paper drawer, it lays flat on a belt as it is fed through the machine. This can cause a small shift between prints, but it is very miniscule and does not affect the print job.
PRO: Quick Turnaround Times
Printing to a digital press is almost as easy as pressing apple "p". There is set up time involved including impositioning to get the most coverage on the sheet and checking/adjusting duplexing. If your print project is VDP (variable data print), there is more time for set up to insert the fields in their proper places.
CON: Quality of Print
With paper and printing technology advances, digital printing can almost match the quality of an offset press. The quality is much better than that of a color copier or your office color printer. Unfortunately, some colors, tans and light blues, do not replicate well with digital printing.
10 TIPS to remember for printing on a digital press.
Digital Presses can not print PMS colors, white or metallics.
For best results, only use papers manufactured for digital printing.
Your colors will not look a vibrant as they do on your monitor.
Textured paper will have a mottled or spotted look.
Your proof will look exactly like the final printed piece.
Variable data is a must for printing digitally.
Keep your quantities small for best price.
For solid black areas, try using a built black of 20Y, 20C, 20M, 100K (not registration).


Would you like more helpful print related articles sent to your inbox? Subscribe to our mailing list and receive our bi-weekly article posts every Tuesday and Thursday.