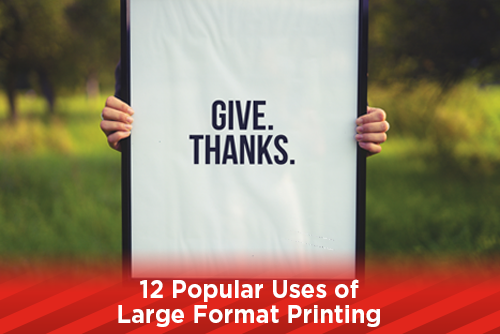 The popularity of large format printers has exploded within the last 20 years. Many popular printer manufacturing companies like Canon, HP and Epson have advanced the technology of large format printers allowing some to print up to 60". If your company uses large graphics, posters, banners and point of purchase (P.O.P.) displays for marketing and advertising, your service provider needs to have a large format printer. Here are a few popular uses of large format printing.
Banners
Having the capability to print 36" and 44" wide and up to 100' long is why large format printing is great for banners. Having a company picnic and want to display your logo and contact information, have a large banner printed and hang it from a tree or set up some temporary posts. Want to display the opening day or your new business? Hanging a temporary banner in your storefront will help spread the word.
Repeat Banners/Backdrops
If you are having a special gala, like a prom or fashion show, use large format to produce repeat banners that will hang in an area for photos. Repeat banners are created by repeating your logo or some graphic element in a pattern across the entire banner. When someone stands in front of the banner for photos, your logo and other graphics will still be visible.
Trade Show Booths
At trade shows, you want your booth to be eye catching and attractive. Using large format printed material will help you create a booth that will draw the attention of the trade show attendees and create a buzz about your product. You can print a table cloth to showcase your product on, or create colorful wall graphics and pop up displays that display your logo and graphics.
Festivals and Community Events
Churches and businesses that are involved in community events or host small festivals can use large format printing to create banners to hang from your your business, or if your city allows, string across a main road. You could even print graphics that stick to the road in front of each vendor for more visibility.
Business Grand Openings
Large format printing is great to advertise the opening date of your business. If you have to cover the windows of your store while you are setting things up inside, use window clings to give a teaser of what is to come. Durable yard signs, though not printed using large format printers, are another great way to promote your grand opening.
Blueprints
Construction and general contracting companies rely on blueprints daily to show clients and workers exactly how things are put together. With economy papers, large format printers can quickly get you just what you need.
GIS Maps
A Geographical Information System (GIS) is a system that captures, analyzes, manipulates, and stores geographical data. GIS can take this data and produce colorful maps giving people a visual representation of the collected data. Using large format printing along with GIS maps for presentations will help people to clearly understand your point.
Photo Canvas Prints
Bridal photos, and anniversary photos, are beautiful when printed on canvas with a large format printer. No need to limit the size of the print by the dimensions of a standard photo frame, instead, print as large as you want and wrap it around a custom size wooden frame for stunning results.
Retail Graphics
In store graphics like wall graphics or signage that hang from the ceiling are great uses for large format printing. Small businesses that only need one or two of the same graphic print will benefit the most from the short print run and size range of large format printers. Use adhesive back papers and foam boards to create point of purchase displays can generate a lot of attention in your store.
Posters
Small concert venues can use large format printing to create huge posters to advertise upcoming shows. Many banks will combine posters with banners to advertise special rates to their clients. Printed on glossy paper, posters are great and economical way to advertise your products or services.
Wall Decals
Do you have a blank wall at your home or business? Spruce it up using wall decals. Printing vinyl wall decals with a large format printer allows you to change the look of an area frequently. Print a large cut out of your favorite sports hero, or an eye catching graphic to promote an item on sale or closeout. Rearranging wall decals can easily change the message or product you are marketing.
Static Window Clings
Use static window clings to entice passerby to come into your store. Window space is usually large, so take advantage of the size a large format printer can print to cover as big an area that you can. Once your sales drive or event is over, you can remove the cling without damaging the window.
A large format printer is a very versatile piece of machinery. With all of the advances in ink and paper technologies, any project you can think of can be printed on these machines.
Would you like more helpful print related articles sent to your inbox? Subscribe to our mailing list and receive our bi-weekly article posts every Tuesday and Thursday.