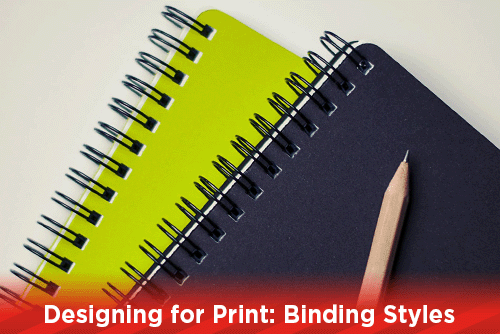 Binding is one of the final steps for your print media project. If you have a project that is over four pages, it will most likely need to be bound together, usually by a saddle stitch. Saddle stitch and corner stitch are the most common forms of binding used, although there are more binding choices for you. Here is a look at the binding styles we offer.
Saddle Stitch
A print media project that is over four pages generally will be bound by a saddle stitch. Nest folding the pages together then placing two staples at the top and bottom of the crease creates a saddle stitch. Mostly used for magazines, pocket folders with inserted pages, small books and annual reports, saddle stitch (also known as wire stitching or side stitch) is also a more cost effective stitching option. When setting up your print media project for saddle stitching, your page count has to be divisible by four.
Corner Stitch
If your print media project consists of a couple sheets of paper that need to be easily bound, the corner stitch is an option. This binding style places a staple at a 45 angle in the upper left hand corner of your sheets of paper. Multi Page letters, important document packages and handbooks are good candidates for a corner stitch. Digital presses with inline bindery functions can produce a corner stitch in the same pass as your printed project.
Perfect Bound
Another binding option for books, magazines and annual reports is perfect bound. This binding method stacks your print media project pages on top of each other instead of folding them. Your cover on perfect bound books will have a spine that the stacked pages will glue into. The binding machine will then grind off any excess glue that runs over the spine and pages. When setting up your print media project for perfect binding, there needs to be bleed added around all four sides of each page. The amount of pages in the project will determine the size of the spine; contact your service provider to have them calculate the spine size by multiplying the thickness of the paper used by how many pages are in the project. A perfect bound book page count has to be divisible by two.
Coil Bound
This binding option takes your stacked pages and using a punch-and-bind system, punches small holes that a spiral plastic or metal coil will be threaded through. Also called spiral binding, this binding method is used for cookbooks, school notebooks, and manuals. Set up your document in the same way as a perfect bound book. If you choose plastic for your coil, you have many different color options available.
Case Bound
A hardcover book often uses case binding. Much like perfect binding, case binding takes your stacked pages and glues or sews the pages together. Next, a cover, made of cloth, vinyl or leather, glued to cardboard, gets bound around the pages. This type of binding is the most expensive and is used for photo books, novels, and coffee table books.
Choosing the Correct Binding Style
Many different variables are involved when choosing a binding style; number of pages, paper stock weight, target audience, and cost are a few things that affect your choice. If you have an idea of what binding style you want to use, it's best for you to contact your sales representative at the service provider and ask their opinion. Here are a couple binding ideas for certain print projects.
Annual Reports
Depending on page count, most annual reports are printed with a 80# or 100# gloss cover with 80# or 70# gloss text and saddle stitched. If your annual report is over 60 pages and prints on a digital press, or over 96 pages printing on an offset press, then you would need to change it to perfect binding.
Sports Books
Another project that works best with saddle stitching are sports books for high schools or colleges. The inexpensiveness of saddle stitching makes these perfect for booster clubs to use when raising money for their school.
Product Manuals
Most often printed in black and white, product manuals contain a lot of information and are many pages long. Product manuals are too thick for saddle stitching, so perfect binding or coil binding works best. Be sure to contact your service provider for the spine size when you are creating the front and back covers, if the job is perfect binding.
Photo Books
Perfect bound and case bound are the binding choices for photo books. Create a nice looking cover as an introduction to your best images.
Magazines
If your magazine is under 24 or 36 pages plus cover (28 and 40 total pages) saddle stitching the book will look good. When your page count gets over 36 plus cover, moving to a perfect bind will give you a better look. Using perfect binding for your magazine gives you an option to add the title and date to the spine.
Having so many options for binding your print media project, it's hard to decide what works best. As always, if you have questions, do not hesitate to contact your sales person. They can help you match the best binding option for your project and budget.


Would you like more helpful print related articles sent to your inbox? Click here to subscribe to our mailing list and receive our bi-weekly article posts every Tuesday and Thursday.