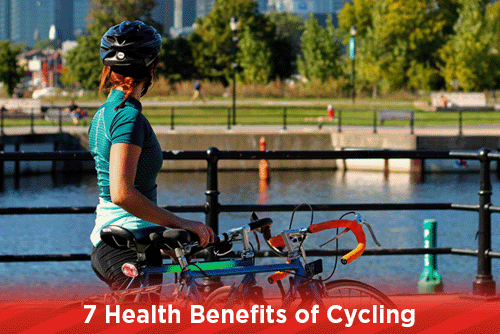 Today, May 31st, is the end of National Bike Month. The month of May was designated as National Bike Month by the League of American Bicyclists in 1956 to encourage people to ride bikes. Cycling is an easy way to get into shape and can provide many health benefits.
Before you begin riding a bicycle on the roads or trails, be sure to have the correct safety gear. Always wear a helmet and have proper reflectors on the front, back and sides. Front and rear tail lights are also highly recommended. Obey all traffic laws when you are riding your bicycle on the road; stop for stop lights and stop signs, signal for turns, etc. If you have to ride on the sidewalk, remember that you are a pedestrian and follow the laws that apply to pedestrians; only cross the road when you have a signal, walk your bike across crosswalks, ride with precaution. If you ride at night or early dawn, always were bright reflective clothing.
1 Low Impact
Many people who do not run because of knee pain can still get a good workout by cycling. The low impact of pedal strokes allows you to work your muscles without causing pain to your knees. An added benefit will be better strength in the muscles that stabilize your knee allowing you to enjoy jogging.
2 Great Muscle Workout
Cycling's main focus is your leg muscles and glutes, but those are not your only muscles that get a workout. Cycling stabilizes your core muscles (abs and the muscles along your sides), works your arms and shoulders, increases your balance, and most importantly, increases the strength of your heart.
3 Build Your Strength and Stamina
Riding up hills and for long distances is great for building your leg muscles. Quick bursts of speed on flat straightaways increases your heart rate and gives your lungs a nice workout that will increase your stamina. Your first rides will be tough, but as you keep pushing along, you will find yourself getting stronger and stronger.
4 Set Your Own Pace
Do you want to have a nice and easy casual ride? You can choose a route with no hills to cycle. Maybe you want to really get a good workout and push yourself by choosing a route with long hills. Either way, cycling is a perfect exercise for any workout you want to do.
5 Time Efficient
If your route allows, consider commuting to work on your bicycle. Cycling is better than sitting stationary in your car or on a bus.
6 Boost Your Mental Wellness
Cycling allows you to get out into the fresh air and enjoy being outdoors. Exposure to sun light increases your vitamin D which supports the health of your immune, brain and nervous system. Cycling also will help you to stay focused as you pay attention to your surroundings and follow your route.
7 Healthier Lungs
Exercising your body and getting your heart rate higher causes you to breathe more deeply. By bringing more oxygen through your lungs and into your muscles, your muscles will be able to perform longer allowing you to ride longer.
How Bike Friendly is Columbia and its Surrounding Areas?
I personally have commuted to work by bicycle in the West Columbia area for the past six years, and feel it is a pretty safe area to bike in. Platt Springs road is excellent for cycling and has a bike lane that extends from Triangle City to Red Bank (you can get on Highway 6 in Red Bank and ride its bike path into Lexington and further into Irmo). There are a few group rides that use Platt Springs road to cycle from the Columbia Metropolitan Airport into Cayce as their last few miles on their route, so motorists are used to seeing cyclists on the road ways.
Columbia's Bike Share Program
With a tentative launch date of August or September of this year, Columbia's bike share program could help bring more exposure to the cycling community. Reports say that there will be fifteen bike stations around the Columbia area providing 135 bikes that anyone can rent and return to a station. Having a bike share program in Columbia will allow people who do not own a bicycle to be able to ride a bike instead of driving their car to work, shop or play. USC students will be able to bike from their campus dorms to the Riverwalk on the Cayce and Columbia side.
Bicycle Nonprofits
What if you did not have a car, or a budget for public transportation, or money to buy a bicycle. How would you be able to get to work everyday? The group at Cola Town Bike Collective would be able to help you out. This non profit takes bicycle donations, either parts or whole bikes, and fixes them up to give to people in need. The Bike Collective also opens their doors to anyone who wants to come in and learn bicycle maintenance to fix their own bike or help them fix up bikes to donate. If you'd like more info about the Cola Town Bike Collective, contact them at 803-216-5106 or online at colatownbikes.com.
If you were not able to get out and bike any this month, try and find opportunities in June to hop on your bike and cycle around Columbia or its surrounding areas. It's a great way to enjoy the outdoors and get in some good cardio exercise.


Would you like more helpful print related articles sent to your inbox? Click here to subscribe to our mailing list and receive our bi-weekly article posts every Tuesday and Thursday.