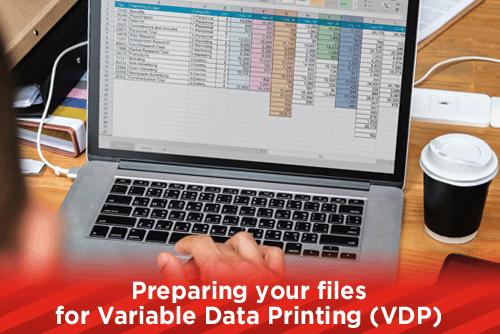 What is Variable Data Printing?
If you have ever received a postcard in the mail that was somehow personalized, either your name or some kind of graphic that was created just for you, then you have experienced Variable Data Printing in action. VDP takes a design program like InDesign and uses a spreadsheet to import data into fields to turn each printed piece into a personalized, one of a kind print. This form of printing is perfect for postcards, form letters, envelopes and other items that you want to use to grab the attention of the recipient.
How is Variable Data Printed?
VDP is printed on a digital press. Digital presses allow you to produce individual pieces, making each print unique. The quality of the print and available digital papers make digital presses very affordable for mailings and other forms of Variable Data Printing.
Preparing Your Files
The Spreadsheet
When creating or adjusting your excel spreadsheet, the first line is where the titles of your Data Fields will go. If you purchase a direct mailing list, such as a targeted consumer, business or new mover list, then these data field titles will probably already be set. Be sure the data field titles are clearly named for the data they support. If there are two fields set for first_name and last_name, review the columns to make sure there are no columns that include both names. If there are, remove the duplicated names.
Check the case of the data fields that will populate when completing the data merge. Names and addresses that will show in the window of an envelope need to be set in all caps, while names within the form letter or salutation should be set as upper and lower case. You may have to create a new column in the spreadsheet for case sensitive information.
Once all of your columns and rows have been checked and adjusted, save your excel spreadsheet as a tab delimited file (TSV) or comma separated values file (CSV).
The InDesign Document
Prepare your InDesign document like normal. Keep in mind where your variable data goes so that you can place the place holders with the imported data. Once you have everything in place, you can import the data.
Choose Window > Utilities > Data Merge. This will bring up the Data Merge window. Click the menu in the window and choose Select Data Source. Navigate to where your CSV or TSV file is located and double click it. Once your data has imported, you will see the Data Field Titles from the top row of your data source. Replace the placeholder files in your document by selecting the text and clicking the appropriate data field title. Do this for all of the data field titles in your list.
You can preview your document with the imported data by selecting Preview from the Data Merge window or click the preview button at the bottom of the data merge window. Using the arrows, scroll through the list, watching for type rewrap.
If everything looks good and ready to go, you can either export the file as a PDF or create a merged document. Choosing PDF, be sure to export as a high resolution file with bleeds. For a more detailed look at Data Merge and Exporting your files, visit our earlier blog post: "Learning Adobe InDesign: Data Merge"
Variable Data Printing is an excellent marketing tool to help you connect personally with your target audience. According to the website statista, 90% of people asked found personalized marketing content very or somewhat appealing. If an ad or postcard has the recipients name prominent on it, there is a better chance that the person will open and read it rather than toss it out. That gives your marketing dollars a better chance to be spent on something people will actually use.


Would you like more helpful print related articles sent to your inbox? Click here to subscribe to our mailing list and receive our bi-weekly article posts every Tuesday and Thursday.