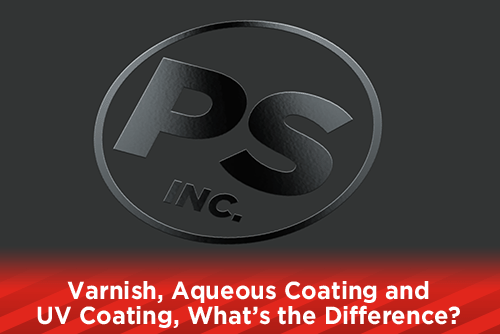 In offset printing, a varnish or aqueous coating is applied to the press sheet in two different ways. An inline varnish will apply the varnish or coating in the same pass as the printed sheet. Offline varnishing applies the varnish or coating after the press sheet has dried. Both inline and offline varnishing provides your printed piece with added protection from scratching, fingerprints and scuffing.
Varnish and aqueous coating can also add a creative dimension to your print media project. If you want certain words, graphics or images to pop off the page, consider using a spot varnish to highlight those areas. When using a varnish or aqueous coating, it is best to print on a gloss paper. The coating on gloss paper from the paper plant provides a harder print area for varnishes to lay on top of. To achieve a varnish that really stands out, hit the areas you want to highlight with gloss varnish, then come back with a dull or matte varnish everywhere else.
Varnish
A varnish is a coating that can be printed on a press like ink is. You can print the varnish either as a flood, which covers the entire print, or a spot varnish, which allows you to varnish only specific text, images or graphics on your printed piece. If you choose a spot varnish, a plate will be required to print, and artwork designating the areas you want the spot varnish to cover needs to be provided to your service provider.
Varnishes can be either gloss, satin or matte and they all provide extra protection for your printed piece. If you have a print project that will be mailed, like a postcard, or something that will be heavily handled like a business card, using a varnish will keep the piece looking nice and not get scratched as easily. An added bonus to using a varnish, is the ability to tint the varnish with a PMS color.
Varnishes can possibly yellow over time on areas that are not printed. If a varnish is covering the print, the yellowing will not be noticable, only when it is directly on unprinted paper will it show.
Gloss Varnish
Using a spot gloss varnish will give your print media piece an added pop by highlighting areas you want to stand out. Gloss varnish works best on a gloss sheet as it helps your images and colors have deeper depth and its reflective qualities gives the piece a glare, bringing extra attention to areas where it is applied. If you really want to get a good contrast with your spot gloss varnished areas, apply a satin or matte varnish to the unglossed spots. An overall gloss varnish will protect areas with heavy coverage from rubbing off and will help to keep the piece from scuffing.
Matte Varnish
This type of varnish provides a less glossy look to your printed piece. Matte varnish will also protect your project from fingerprints, but will scuff a little more than gloss varnish. Colors and images will look a little softer when using a matte varnish, but there will be no glare making text easier to read. Spot matte varnish is also available and creates a nice looking contrast on coated papers. Printing matte or gloss varnish on uncoated papers will only give extra protection from scratches and scuffing. They will not have the same shine as they do when printed on gloss papers.
Satin Varnish
Stain varnish is created by mixing gloss and matte varnishes together. This varnish is good for protecting your project and will provide a small amount of shine.
Aqueous Coating
The most popular coating for printed material is aqueous coating. Aqueous is a clear, water-based coating that is environmentally friendly. Being water based, it is best used on papers with a text weight of 80# or heavier, so that you do not get curling or wrinkles. Aqueous coating dries quicker than varnishes making it ideal to run inline on the press.
You can not create a spot aqueous coating, but in certain instances, you can knock out for a mail panel or a square area for writing. Unlike spot varnishes, aqueous coatings are applied with a blanket and do not use a plate. Aqueous coating protects your print from scratching, scuffing, fingerprints and dirt, which is useful for mailings and other projects that are handled a lot or need to pass through other machines.
Gloss Aqueous Coating
The results of using a gloss aqueous coating is a printed piece that has a nice shine and feel to it and is protected from scratches and scuffing better than gloss varnishing. Gloss aqueous coating is best for an overall gloss finish and is not recommended for spot varnish as a blanket is used for application and not a printing plate.
Matte Aqueous Coating
This coating gives the final printed piece a nice subtle finish. Matte aqueous coating allows your images to remain bright and clean while adding a layer of protection to the final print. Matte and gloss aqueous coatings are very cost effective and do not add any extra time to the production of your printed project.
UV Coating
A great example of the glossiness of UV Coating are baseball trading cards. Trading cards in general have a UV coating on the photo side and no coating on the stat side. This type of coating is cured by passing under an ultraviolet light that quickly dries and hardens the coating, creating a coating with a super high sheen and offers the most protection between varnish, aqueous and UV. Having a spot UV coated element on your printed piece will really make it stand out.
When Should You Varnish or Coat Your Print Project?
Anytime your print project is mailed, it is helpful to varnish or coat the piece. Bookmarks, pocket folders, business cards, rack cards, etc. would also be good candidates for varnishing or coating. Depending on the use of your print project, using a spot gloss or a flood of matte varnish will work best. As always, if you have a question or concern about varnish or coatings, ask your sales rep to show you examples of each.
When Should You NOT Varnish or Coat Your Print Project?
If our print project requires anyone to write on it with a pencil, pen or marker, varnish or coating will not be a good option. Varnishes and coatings can not be written on. For that reason, greeting cards, postcards, and other projects that need to be handwritten or ink jet printed, should not be varnished or coated.
Varnishes and coatings, when used correctly, can add another depth of look and feel to your print project. Speak with your service provider and ask them to provide you with samples of their varnish and coatings and the papers they work best on before you begin your project. Happy printing!


Would you like more helpful print related articles sent to your inbox? Click here to subscribe to our mailing list and receive our bi-weekly article posts every Tuesday and Thursday.