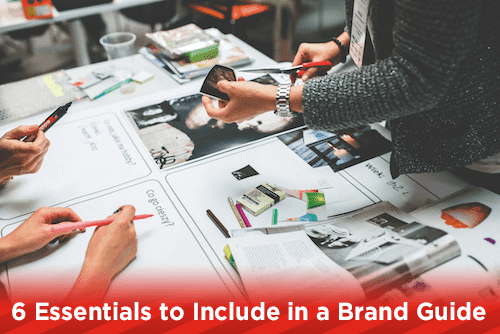 For small businesses, entrepreneurs and marketing individuals, one of the most important parts of marketing is knowing who you are. If you don't fully understand who the business is and what its values are, then marketing that business to others becomes a much more challenging task. So, how does a business know what it is? Through its brand.
Your brand is the business's name, design, values and overall feel of the company. It's everything that makes your business what it is. These principles and guidelines are shared throughout the company with a brand guide, which provides a necessary tool designed to give your brand consistency and flexibility. When you know how to best represent your brand, you have the flexibility to share that brand with others, while representing the company in a professional light. Today we dive deeper into brand strategy by defining the six essentials you need to include in a business brand guide.
1. Mission
From the very beginning, a mission statement sets a clear motive for the company. Why does your business exist? A mission statement establishes an overarching reason for the brand's existence, which can then be further defined throughout the rest of the brand guide. When you have a mission, you can constantly check the rest of your brand elements next it, ensuring you are consistently on track for your purpose.
2. Vision
A vision statement is similar to the mission, but with one clear distinction. While a mission statement explains why the brand exists, a vision statement explains where the brand should go. Your mission statement should stay pretty consistent; however, your vision statement can change and adapt depending on where the brand is at. Include a vision statement in your brand guide so all team members are on the same page with where the company is going.
3. Target Audience
Who is the business's ideal customer? Who is your target audience? Incorporate your target audience in the brand guide by describing who your customers are and how your products or services influence their lives. Be sure to also include any market research you have on your target audience in order to offer deeper insight to help team members better communicate the brand with potential customers.
4. Personality
Possibly one of the greatest components of a company's brand is its personality. Make a list of three to five adjectives which describe your brand. Is the company smooth and professional? Perhaps fun and witty? Try an "Is/Is Not" activity to really nail down distinct personality features for your brand. As you define the business's personality, you set the tone for everything from design, to voice, to formatting.
5. Design
Once personality is defined, dive into the nitty gritty of what people see about the brand—design. This includes everything from the logo, to colors to formatting. Consider your target audience as you determine brand design. What colors and fonts would appeal to them? What style of photography best catches their eye? While decisions like these may seem simple, they are extremely important when it comes to clearly distinguishing your brand in the public.
6. Voice
Following design is another necessary brand guide component—voice. If your brand were a person, how would he or she talk? Set the tone and style of voice you want, along with any verbiage to use with the brand. For instance, some businesses use the phrase "team members" instead of "employees" because they prefer a team atmosphere. The voice, tone and words you use are all particularly influential pieces in defining your brand guide.
A clearly-defined business brand is a critical component of any marketing strategy. When a business knows who it is, it can better communicate that with potential customers. Use these six essentials when building your brand guide in order to determine your unique brand and share it with others on a whole new level.


Would you like more helpful print related articles sent to your inbox? Click here to subscribe to our mailing list and receive our bi-weekly article posts every Tuesday and Thursday.