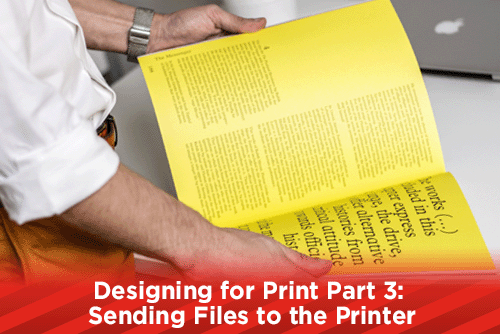 Part 1 of our 3 part Designing for Print series: Designing for Print Part 1: What to Consider, looked at ways to think through the project before you start designing and using the correct applications. Part 2, Designing for Print Part 2: Colors and Images, looked at proper ways to set up your colors depending on if your project is a process print job or spot color print job, and image resolution for your print media project.
Today's post will help you to make sure your files are ready and set up properly to be sent to the printing company. Having your files set up properly is an important step to ensuring that your do not have extra charges applied to the project. Following this guide will help you in that preparation.
Proof Proof Proof!
Proofread your copy very carefully! This is a very, very important step that often gets overlooked. After hours and hours on a design, it's tough to look back over it and catch misspelled words, or wrong information. Before you send any files to a service provider, read over your entire layout carefully. Run spell check to catch any errors. Print out a copy and go over it carefully. Have someone else in your office look over everything. You want the files that you send to be printed to be ready to go. Finding mistakes on a proof from the printing company can result it alteration charges. Finding mistakes on the final printed piece that has been sent to your customers can result in the cost of reprinting the piece as well as lost profits from misinformation.
Print Mockups Before Sending to Service Provider
A good way to help you when you are proofing your files, is to print out a mockup of the project that is 100% the size of your final piece. If the project is to be inserted into an envelope, like an A6 or 6 3/4 remittance envelope, print and trim the project and check that it will fit into the envelope. If it's a self mailer that roll folds, print, trim and fold the piece to double check all of your panel sizes. If it's a pocket folder that includes inserts and a business card slit, print, trim and fold the pocket folder to make sure the pockets do not cover any important information that needs to be showing when the inserts are included. Make sure your business card will fit into the slits on the pockets and that they do not cover any information.
Being able to hold a mock up in your hands of your project will help you see any areas of the design that need to be adjusted before sending it to the printers. Many times a font will look too large on your screen, but when you print it out at 100% you can see exactly how it will look. Again, this will save your time and money instead of waiting for a proof from the printing company. Also include the mockups with your files when you send them to the service provider. That way there will be no questioning what you are looking for when you receive a proof.
Export a High Resolution PDF File
Once your file is ready to be sent to the printers, export a high resolution PDF file including bleeds and crop marks. Most service providers use a PDF workflow in their prepress department. High resolution PDF files with bleeds and crop marks help your files from having incorrect updated images and type reflow. Any placed support files will be embedded within the PDF file and there is no chance a support image name could be changed or truncated when moved to the service providers file server.
The only downside of sending a high resolution PDF file to your service provider, is there is not an easy way for the service provider to adjust or correct the PDF file. Any corrections or additions to the file must be made on the designers end. This can also be seen as a positive as it will ensure that the files on your end are the final ones and not the files sitting on the service providers file server.
One way to help your job stay in production if there are any changes or corrections, is to package the output, fonts and support files to send to the printer. Packaging also helps to pull all of your files for the project into one central folder. Sometimes you may use a support file from another job in another folder. When you packages your file, all the fonts and supports are copied into the designated folder. You can even have InDesign automatically update the output file with support files from the new folder. When you package your files through InDesign, there is an option to generate and include a high resolution PDF file.
Now you can compress or zip the folder and upload to your service providers FTP site. When the prepress department has all of the fonts and supports for your project, when and if there are any corrections or changes, they may be able to make those instead of sending the file back to the designer. Just make sure that you get an electronic file to update your files on your server.
Include Lasers of the Project
Anytime you send packaged files including output, fonts and supports, there is a chance something can go wrong. If a font is not included, or loaded improperly, your type could reflow or fall out. Moving files from a Mac to a PC or PC based file server, could affect the name of a support file. Using odd characters like a / in a file name is not suggested as the / can change to a - on certain servers. If that happens and you update your files in InDesign, the file that changed will be update automatically. Or if you have a file placed named logo.eps and you pull the wrong logo.eps file from your files to send to the printer, the wrong one will be updated on the printing companies end. Including lasers of your design will allow the prepress department to double check the files with the lasers, avoiding incorrect file updates.
Thinking through the entirety of your print media project while you are designing it, will help you save time and money from corrections or updates. If you need to contact your service provider and have them give you sizes for panels or files for dielines, contact them during the design stage. Carefully proofing your files before sending them to the printers will help save time and money. Completing these steps will ensure that your design be print ready and move smoothly through the production stage.


Would you like more helpful print related articles sent to your inbox? Click here to subscribe to our mailing list and receive our bi-weekly article posts every Tuesday and Thursday.