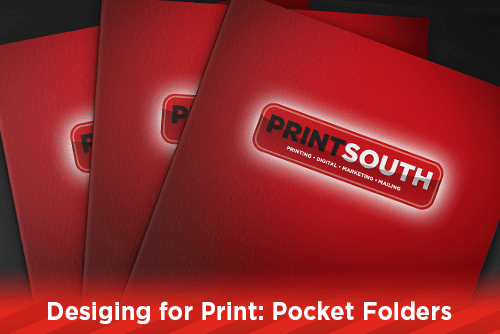 Pocket folders, or presentation folders, are a major part of your overall marketing campaign. Having a pocket folder that you can place inserts within the pockets allows you to be able to leave detailed information on your product or services with potential clients. The design of your pocket folder is just as important as the information within them, so proper creation of your layout is very important.
Top Uses for Pocket Folders:
Press Kit - highlight important information about your project
Trade Shows - Showcase your products or services
Marketing - great for leaving behind at prospective leads
Training Material - keep all of your training documents together
Build your Brand - show off your company brand
Set Up Your Output Document Correctly
When creating the layout for a pocket folder, it is best to create the document at its final flat size. The flat size is what your service provider will need to print your job. For a standard 9x12" folder with 4" pockets, the flat size of the document needs to be 18x16". You can create your layout as two 9x12" pages, and a separate 4x12" two page document for the pockets, but these will need to be assembled into the 18x16" document before you send the files to the print company. Be sure to remember to rotate the pockets 180 degrees when placing them under the covers.
Pocket folders need to have a dieline in order to be trimmed out properly. If you are unsure how to create a dieline, contact your service provider and have them send you a dieline to check your layout to. If you are looking for a standard, 9x12" with 4" pockets, pocket folder die, you can download one with standard business card slits here, or one with half moon business card slits here.
Business Card Slits
There are different options when it comes to adding business card slits to your pocket folder. Common business card slits area four angled corners, two angled corners, and half moon slits. Other business card slits are butterfly slits and notched tabs. Whichever you choose for your pocket folder, check with your print company to see if they have a standing dieline for your choice. If not, a new dieline will need to be created and can add unwanted cost to your project.
Business card slits are usually placed within the center of a pocket. You can choose to move the slits anywhere on the pocket, but this may result in needing a new dieline created. On a two pocket folder, you can have business card slits on both pockets, or just one pocket. If your business cards are vertical, you may have to go with half moon slits or notched tabs on the left and right side, as a 4" pocket will not have enough room for corner slits.
Set Up Bleeds Properly
When creating your pocket folder document, pay close attention to your bleeds. All of your bleeds should extend at least 1/8" from the edge of your document. Bleeds from the cover and back cover should not extend into the pockets. Your bleeds also do not have to cover the tabs located on the outside of the layout, they only need to extend 1/8" from the edge of your document. If you design your pocket folder as separate pages, and assemble them into a larger document, be sure to adjust the bleeds properly.
Overall or Spot Varnish
Because pocket folders are handled so much, it is best to add a varnish or coating to your project. An overall varnish or coating will be handled by the printing company. If you decide to do a spot varnish, you will need to create the files for the spot varnish. Just like bleeds, your varnish file does not need to extend over the tabs of your pocket folder. Create your spot varnish on a separate layer than your design.
Export A High Resolution PDF File
Exporting your high resolution PDF file is standard, except for one instance. You will need to adjust the bleed setting to accommodate the tabs on the outside of the layout. Tabs are 3/4" wide so in your Marks and Bleeds settings, change the Left and Right measurements to 1". Be sure to export a high resolution PDF file with adjusted bleeds for the spot varnish files also.
Having a top notch pocket folder helps your company look professional when leaving with clients or prospects. Within the pocket folder, be sure to organize everything in an order that supports your marketing idea or brand. Jumbled information will confuse client and you won't get the most out of your marketing efforts. Adding a spot gloss varnish will help your pocket folder draw attention. Whatever you do with your pocket folder to make it memorable, having a great print shop to help take your project to the next level will help out tremendously. We'd love to be your go to source for great work. To get in contact with us, email info@myprintsouth.com and we will have someone touch base with you soon.
Would you like more helpful print related articles sent to your inbox? Click here to subscribe to our mailing list and receive our bi-weekly article posts every Tuesday and Thursday.