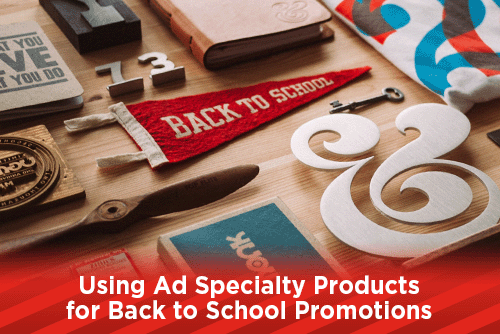 It's that time of year again. Although the first day of summer was only a few weeks ago, retail stores and other businesses are gearing up for their annual back to school sales. Take advantage of the back to school season by using promotional advertising products for your company as giveaways.
Elementary School Children
Children from the ages of 5-10 years old are the target age market for Elementary School. When marketing to this age group, you want to use easy to read letters and bold, bright colors. Your product needs to be fun and entertaining, so that it will keep their attention if you want them to continue using it. Parents of Elementary school aged children do the buying, but the child will have a great influence on the purchase.
Crayons - crayons are a big staple for elementary schools
Lunch Boxes - insulated lunch bags will help keep their food fresh and cool
Supply Cases - crayons, pens, markers, pencils, erasers - all of these items need to be stored in something
Backpacks - stuffing a free backpack full of school supplies is a great way to give to the community
Middle School Kids
Marketing to kids in Middle School, ages 11-13, needs to be colorful and it helps to include current fads. Some Middle schoolers will be earning an allowance and will be responsible for some of their own purchases, but parents are still the main buyers of this age group. Parental influence, think football team fans, is a big buying force for middle school kids. If you can get the parents on board, then the children may follow suit.
Sticky Notes - keeping their place in a book or putting them on their desks, sticky notes will get used
Highlighters - taking notes and highlighting them for quick study is important for students
Drawstring Bags - sports begin in Middle school and it's cool to have a good looking bag to put all of your stuff in
Notebooks - looseleaf or spiral bound, middle schoolers will do a lot of writing
High School Young Adults
By the time young adults ages 14-18 begin attending High School, their own personalities are setting their buying habits. Trends are still popular with this age group and more and more are purchasing things for themselves. Most High School students have part time jobs and the extra money they get from allowances lets them weild their own buying power. At this age, the younger consumers are beginning to have brand loyalty.
Moleskin Journals - the budding artist, short story writer or poet will love putting their ideas into a moleskin journal
Calculators - cell phones are not allowed in school for Calculus, Trigonometry and Geometry, so they will require calculators to help with solving the equations
Hand Sanitizer - keeping and staying healthy
Sunglasses - colorful sunglasses are great attention getters
College Students
By this time in the consumers life, 18+, they are in charge of their money, so they put more thought into their purchases. Marketing for this age group requires you to step away from traditional ideas. College consumers want to be engaged and most are looking for a cause to support with their time and money. If your company supports any non-profit or global outreach groups they are more likely to buy your product. Getting this age group involved with your company through internships or as a brand ambassador with free products will help your marketing efforts through their word of mouth reach.
Lanyards - providing lanyards and holders for student ids for easy access
Smart Wallets - these sticky back wallets are great to hold licenses and debit cards
Flash Drives - cloud services are great, but having your physical files is great also
Pop Sockets - a safe and easy way to hold your cell phone
Parents of Students
Back to school is a very hectic and busy time for parents. They are in the market for deals for their children and themselves. Price and quality are what they are looking for most. Including offers for the parents in free giveaways for students can bring them back to your company after the craziness has died down.
Product offers - discounts or free offers for parents
Cups/Water Bottles - sports water bottles are very popular
Car Trash Bags - keeping the minivan clean will help parents out
Planners and Calendars - bonus if you can include school district dates in your calendar
Don't Forget the Teachers!
Most back to school marketing efforts are focused on the students, but don't leave out the teachers! Any free school supplies are greatly appreciated when school budgets don't go as far as they need to and teachers use their own money to buy what's needed. Spa or nail salons can offer discounts or free sessions to teachers for a well deserved pampering after the first couple weeks of school.
Rulers - plastic or wooden, everyone loves a good ruler
Banners/Posters - anything to educate and brighten up their school rooms
Tablet Covers - most schools are tablet based or use chrome books
Pencil Sharpeners - hand held pencil sharpeners that students can keep in thier desks
Ways to Give Out Your Product
Free giveaways - these are a great way to hand out promotional products. Having the giveaway at your place of business can give your location great exposure.
Team up with the school - ask permission to include your products in the welcome packet for students.
Partner with a Non Profit - support a local charity group to provide free school supplies to your neighborhoods.
Providing free quality items for back to school promotions will help build your brand in the local community. Partnering with local charities and nonprofits allows you to back the causes that you supports. Whatever you do to promote your business during the back to school season, be generous and earth conscious with your choice of products.
Would you like more helpful print related articles sent to your inbox? Click here to subscribe to our mailing list and receive our bi-weekly article posts every Tuesday and Thursday.