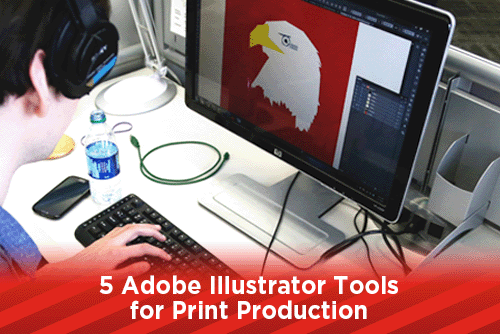 In a previous post, Illustrator Tips and Shortcuts, we showed you helpful keyboard shortcuts to help speed up your production times. Today, we offer 7 tips that we often use in the electronic prepress department. Illustrator is a very robust application with many features available, but in printing, it is best to use Illustrator along with InDesign and Photoshop for your page layout. Export vector art from Illustrator to place into InDesign. Try not to use Illustrator exclusively for page layout of books and multi-page documents.
Scale Strokes and Effects Proportionally
One reason to export your files from Illustrator as an AI or EPS file is the ability to scale the graphic proportionally. Illustrator works best for vector are that can be enlarged or reduced without losing any clarity. Placing your file in InDesign and enlarging will keep all the strokes and effects even and looking nice. In Illustrator, sometimes when you enlarge a graphic with strokes and effects, the strokes and effect do not enlarge proportionally. To fix this, choose General Preferences under the menu (or use the command+k keyboard shortcut), and make sure the Scale Strokes and Effects checkbox is checked. Now your strokes and effects will scale just fine. You could also select your graphic and choose Expand Appearance under Object in the menu bar. This will convert your strokes to fills, so be careful about using this method if you need to change the thickness of a stroke later.
Draw Inside a Shape
Illustrator provides a couple drawing modes, Draw Normal, Draw Behind and Draw Inside, that are easy to use. You can access these tools at the very bottom of the Tools palette, or by pressing Shift+D to cycle through them. Draw Normal and Draw Behind are pretty self explanatory. When you use Draw Inside, it creates a quick and easy mask with the shape you have selected. As long as you do not "exit out" of the graphic you are drawing inside of by using the Selection Tool and clicking outside of the graphic, you can add as many elements as you need. If you do click out of the graphic and want to go back and add or remove something, using the Selection Tool, double click the graphic that you want to draw inside of. This allows you to edit the clip group. Once you are done, double click anywhere on the art board to go back to regular editing.
Paste in Place
You have options for pasting an item copied to your clipboard in Illustrator. Pressing Command+V will place the copied file at the top of your current layer and in the center of the page, or, if you are copying and pasting between documents, will paste it on the top of the current layer in a new document. Pressing Command+Shift+V will paste in place, placing the copied file at the top of the current layer you are working on. And pressing Command+F (front) or Command+B (back) will place the copied file in the front or back of the copied graphic or layer item you have selected. Pasting in front or back helps if you are adding strokes or effects to an item, although using the Appearance panel works best for items with multiple strokes or effects.
Selecting Similar Objects
Many times we will get a logo or support EPS file that should print in a spot PMS color but has parts of the graphic built in process. In order to grab all of the vector parts that need the color to be changed, use the select similar objects option. First, grab a vector that is not the color you need it to be using the Direct Selection Tool. Next, choose Select > Same > Fill Color. This will select every area that is filled with the same color as the part you selected. Now choose your fill to be that of the PMS color you need it to be. If you need the stroke of an object selected, using the Direct Selection Tool, click on the stroke of an object you need to change. Now choose Select > Same > Stroke Color and stroke with the PMS color you need. This is a quick and easy way to adjust colors of an Illustrator file.
Pathfinder Tool
If you create any kind of vector files, learning and using the Pathfinder Tool in Illustrator is highly encouraged. The Pathfinder Tool, Window > Pathfinder, allows you to take different shapes and either Unite, Minus Front, Intersect or Exclude one from the other. Uniting one or more shapes will combine them together allowing you to make one continuous shape. This is good for taking many pieces, uniting them together in order to create an outline around the entire shape. If the objects you are uniting have a stroke around them, be sure to expand the appearance, as when you unite the pieces, all stroke weights will become the same thickness.
Minus Front removes the front shape from the shape behind it, like taking a bite out of something.
Intersect takes the two shapes and deletes the areas that are not on top of each other, leaving you only with the area the shapes overlapped.
Exclude is the opposite of intersect. Choosing exclude will delete the areas the shapes overlap, leaving and combining the shapes that do not overlap.
There are many tools to use in Illustrator and as the application keeps growing, I'm sure more tools will be added to assist graphic designers and prepress operators with their jobs. If you have questions about these tools and tips, please contact us at PrintSouth Printing using getsocial@myprintsouth.com.
Would you like more helpful print related articles sent to your inbox? Click here to subscribe to our mailing list and receive our bi-weekly article posts every Tuesday and Thursday.