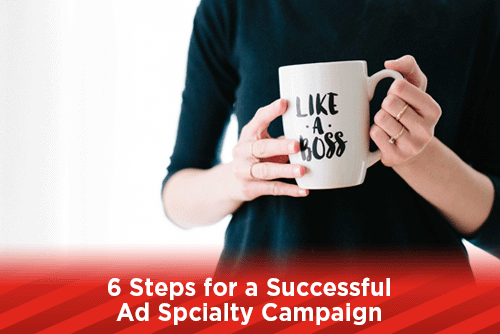 Planning and executing a successful ad specialty product campaign requires patience and focus. With delivery dates of two weeks or more, you need to plan accordingly and be ready to adjust what you need in case of a problem. Following these 6 steps will help you stay ahead of the game.
Before Ordering, Have a Clear Goal and Purpose
Get the most out of your marketing dollars by thinking through the goals and purpose of your ad specialty products. If your goal is to only promote your business, then handing out imprinted water bottles at a sponsored run will work fine. But if you are trying to bring in more leads for your business, consider offering bottles of water with a coupon code for a discount that directs people to your website. Now you've given them a reason to check out your site and spend money or give out their contact information. Using a unique coupon code will also help determine the effectiveness of your ad specialty marketing campaign by keeping track of how many people use the code.
Allow Enough Time for Delivery
The worst thing you can do when ordering ad specialty products for an event or special giveaway, is to wait until the last minute. Place your orders with enough time to allow for delivery and problems, at least three weeks prior to your event. There usually aren't any issues or problems with ad specialty orders, but you never know when a product might be out of stock or there are issues with your artwork. It is best to have what you need on hand rather than scramble at the last minute trying to replace a good idea with something inadequate or cheap.
Avoid Rush Charges
Waiting until the last minute not only increases your chances of problems, but it also increases your marketing budget with rush charges. Avoiding rush charges by the ad specialty company leaves more money in the budget for other areas, or to buy more products. Careful planning and execution of your ad specialty marketing project will save you stress and money by having all of your product on hand to assemble.
Choose Quality Items Over Budget Costs
Speaking of budgets. We know they are tight and you want the most you can get out of them. Whatever your budget is, don't let it dictate the product you are getting. Giving out battery operated fans at a race or fun run may keep their attention for that day, but it might not get the use a cooling towel or sports bottle with a freeze infuser would get. The towel and bottle may cost a bit more, but you would get more exposure giving out the more expensive products. If you go for more quantity over quality products, it may come off looking cheap and people won't use it giving you a poor ROI.
Over Order
Always plan to order more than what you need. Ad specialty products have a better price break when you order higher quantities. Taking advantage of these price breaks and ordering a few extra items, will allow you to either hand out more products at the event, or keep them on hand for giving out as leave behind gifts when meeting with leads. Also plan to keep whatever you are giving out for yourself so you can keep track of what you have done and the effectiveness of your efforts.
Have a Distribution Plan
Distribution is another thing you have to plan for. Your ad specialty campaign could have a lot of pieces that will need to be assembled into a handout, requiring time to put together, or needing extra people to assemble. Trade show booths are easily manned by one or two people, but if you are hosting or sponsoring a race or fun run, you may need four or five people there to assist in passing out the products. Making sure you have enough manpower to assist you makes the event go so much smoother. People notice when things go wrong or don't run smoothly and you don't want your marketing budget to be spent on bad publicity.
Spending money wisely on ad specialty products is an important part of marketing your company the right way. Excess spending will result in poor returns on your marketing dollars. Be smart and plan everything out. Delivery dates; time to get it all together; delivering to the event and people to work it requires you to be diligent and stay focused. Keeping these things in mind will help you have a successful campaign.
Would you like more helpful print related articles sent to your inbox? Click here to subscribe to our mailing list and receive our bi-weekly article posts every Tuesday and Thursday.