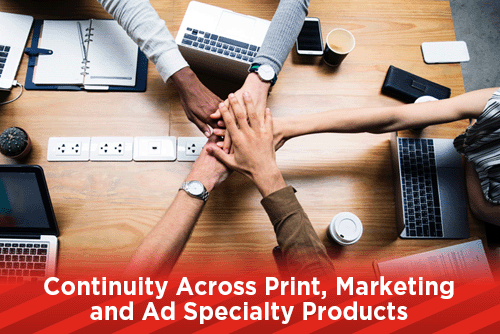 Building your brand should be an important part of your business plan. Creating a recognizable look and feel across all platforms of your marketing reach will make it easy for your clients to recognize who you are. How can you keep your continuity across print, marketing and ad specialty products? Following these suggestions will help you to become more visible.
Create a Branding Style Guide
One of the easiest ways to keep all of your marketing materials coherent is to create a branding style guide. A style guide shows people in your marketing team how to properly use your logo, colors, images and fonts. The guide helps by offering suggestions on how to apply these aspects of your brand to advertisements with light or dark backgrounds, vertical or landscape orientations and other mediums of marketing. Showing people how not to use your logo, colors, images and fonts will keep them from getting away from the look of your brand. You won't be able to think of all instances your brand will be used on, so revisions to the branding style guide will need to be made often.
Stick to Corporate Colors
Choose colors that compliment the colors of your brand. For print and marketing ads, your logo should be in your company colors or white if it is on a dark background. With ad specialty products where you may be limited to the color of the product or imprint color, choose product colors that are close to the main color of your logo and imprint with a complementary color. For example, if your main color is navy blue, find dark blue products and imprint your logo in white. With lighter colors, you may have to print your logo in black. Doing so will allow you to have ad specialty products that do not stray away from your brand.
Choose Good Images
Working with images is a good way to stay consistent with your marketing plan. Depending on your target audience and what you are trying to say with your message, the images you use in your marketing can vary from ad to ad. A way to stay consistent through print and marketing media is to choose images that work with your brand. A sports company selling active wear would not want to use a peaceful landscape image or a beach resort company would not want to use images of the desert. Choosing images that have the same feel or colors will also help keep you consistent.
Own a Typeface
When it comes to brand recognition, don't overlook any of the smallest details. Choosing a font for your brand and using it wisely in your print, marketing and ad specialty products will help you to keep everything consistent. Having a style guide that shows proper use of the typestyle of your brand will help others to follow the branding style your company wants to achieve. It's ok if you throw in a different font for a headline to draw attention to an ad, but keeping the header and body copy consistent will help people recognize your brand.
Use Common Elements
Using common elements from your design or page layout across print, marketing and ad specialty products will add a bit of continuity to your campaign. A memorable design element, like a background, pattern or shape, that can cross all of your marketing avenues can help to tie them together. Package branding has used this technique when producing boxes that sit on the counter side by side. The boxes will have part of the layout the left hand side and part on the right hand side. When placed side by side, the two boxes create the whole image.
Tell Your Story
Every part of your marketing campaign should work together to continue the story of your brand. Coca-Cola's campaign, "Share a Coke," is a good example of their story crossing marketing platforms. Every ad in the campaigns featured a Coke with someone's name and encouraged them to share their drink with a friend or stranger. Their ads showed happy people enjoying a Coke with someone, which further pushed their "Taste the Feeling" and "Have a Coke and a Smile" campaigns.
Stay Coherent
A good coherent marketing mix will take product, price, place and promotion and combine them to achieve your marketing objective. Print, marketing and ad specialty work in conjunction to help achieve those objectives. Staying coherent throughout your marketing campaigns by planning and implementing actions throughout the year will help build your brand consistency. This will establish your brand in and outside of the areas you are marketing.
All of these ideas work together to bring about brand recognition. Companies like Apple work hard on their interaction with users in order for them to have a feeling of happiness or satisfaction when they see the logo. As a business, you want to tap into that same feeling with people who use your products or services. By putting effort behind your marketing dollars, you can achieve good continuity between the print, marketing and ad specialty products you are using.
Would you like more helpful print related articles sent to your inbox? Click here to subscribe to our mailing list and receive our bi-weekly article posts every Tuesday and Thursday.