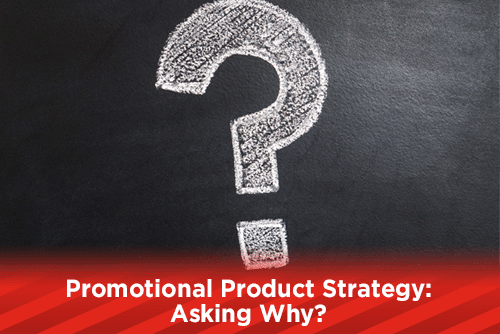 When planning a good promotional product strategy, one of the main questions you should ask is Why? Why do you want to use ad specialty products as part of your marketing plan? Why would a client or potential client use the product you are giving them? Asking these and other questions will help the success of your campaign.
Why should Ad Specialty products be part of my marketing plan?
Compared to other advertising avenues, including magazine, newspaper and tv ads, ad specialty products have one of the lowest costs per impressions. With an average of .6 cents per impression, compared to 1.8 for tv ads, ad specialty products give you a better return on your investment. Not only do you get a better ROI, but you get better staying power with ad specialty products. Clients will use pens, mugs, cups and tote bags with your company's information on it everyday, furthering the potential reach of your marketing strategy.
Why would a client use this product?
Take a look a the products that you use personally everyday. Pens are continuously being passed around; on a summer day, koozies keep your drinks for sweating on you; coffee mugs are filled and refilled throughout the day; there are a million and one products that can and will be used daily by your clients or leads. You just have to find the right one that fits the needs of the person you are giving it to. For ad specialty products to be effective, creative though has to be applied when choosing products.
Why do I want to give this product away?
Knowing what you want out of the ad promo investment can help you in the product selection. Most ad specialty products are used for name recognition and brand building. But these are not the only uses for ad specialty products. Customer loyalty, seasonal gifts, welcoming new employees, and sales leave behind products help to keep your business at the front of people's minds. Thinking of the end result of your ad specialty campaign, and how often you want the recipient to use your product allows you to wisely choose what you will give away.
How does this campaign complement my other marketing campaigns?
A good way to get the most out of your marketing dollars is to have a sense of continuity within your advertising campaigns. If your magazine ad has a totally different look than your print or ad specialty products, then there may be a disconnect for your product or service. When you carry your company colors, logos and campaign message throughout your advertising, it has a better chance for recognition. Using different means of advertising does not mean that you have to reinvent the wheel with every ad.
How can I measure the success of my ad specialty campaign?
The success of your campaign is determined by knowing what you are hoping to get out of the campaign and tracking the effectiveness of your efforts. Passing out products to get your name in the local area would be a hard campaign to track the effectiveness. Other than monitoring web visits, phone calls and people coming into your shop it would be hard to find out if they only saw your info on the products you passed out, or they just decided to contact you. Using specific ad promo merchandise that directed people to a unique landing page or phone number would be an easier way to track people who saw the product.
Having a plan for your ad specialty campaign, as well as your print, social and media campaigns, will help you effectively draw in new clients or sell your product and services. Put in the time to creatively use ad specialty products, instead of putting out products that will get little use. As you progress with your marketing, keep track of what works and what didn't to help with future endeavors. Don't be afraid to try new ideas to stand out. You want the client or lead to use the item and to talk about your company.
Would you like more helpful print related articles sent to your inbox? Click here to subscribe to our mailing list and receive our bi-weekly article posts every Tuesday and Thursday.