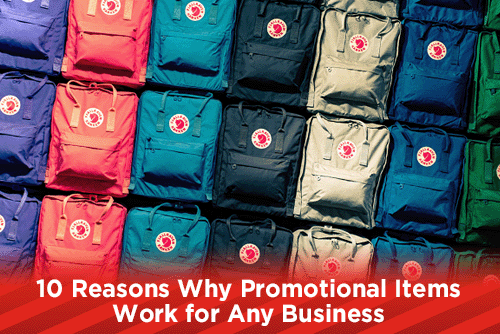 If your company is not utilizing the marketing power of promotional items, you could be missing out on a great source to attract new customers. Promotional items, like USB chargers, lip balm, and tote bags, make the perfect leave behind to keep your company or product fresh in the minds of possible leeds. A nice bag of goodies to pass out at a trade show helps visitors remember you and your product after the show has ended. Ad specialty products have so many uses and so many choices, that there is something out there for everyone. Here are just a few reasons why promotional items work for any business.
Reason 1: The Low Cost of Promotional Items
Compared to other marketing avenues, like tv, magazine and newspaper advertising, ad specialty products can have a lower unit price. With an average of 1.2 cents lower cost per 1,000 impressions, promotional items can get your brand noticed. Pens and koozies with your company brand on them are some of the inexpensive promotional items out there. Adding ad specialty products to your marketing plan will add another level of reaching people and generate more leads.
Reason 2: The Reach of Ad Specialty Products
Take a moment and survey your desk, or office area. How many ad specialty products can you see? Currently, I am using a USB hub, a ruler, lip balm, tissues, multiple pens, hand sanitizer, a keychain, a calendar, notepad, and magnets all branded by different companies. These are just the items I have in front of me. If I would go through my home, I'd find hundreds of other branded products. Ad specialty products can reach further than any other form of marketing.
Reason 3: The Brand Experience of Promotional Products
Think of some iconic t-shirts. You might think of the Rolling Stones Tongue, or Mickey Mouse, or one of the most iconic shirts of all time, the I Love NY. These shirts all promote the company's brand experience by involving the people who use their products. T-shirts are one way your company can do the same thing. You can also use bumper stickers, magnets, hats and anything else that people use or wear daily.
Reason 4: The Ability To Recall the Brand
Of course the shirts mentioned above were not the cause of success for the companies. The Stones had about 11 albums under their belts before the logo was even created in 1971. The designs and shirts are successful because they remind the user of the experience they had with the brand. Mickey Mouse brings about memories of trips to Disneyland as a child (or adult), or your favorite character from one of the many movies they have made. Using promotional products to remind people of the great experience they have had with your brand takes time and a good product or service. It's not something that will happen just because you put ink on a shirt.
Reason 5: The Exposure of Ad Specialty Products
Let's take a look at the journey of the mighty ink pen. Your company, ABC Plumbing of Columbia, South Carolina, orders a set of nice, durable, high quality ink pens with your company name, phone number and web address printed on the side. You hand them out to your sales force and one of them drops one off at a clients business with a notepad and desk calendar. The client remarks how nice and smoothly it writes, and they use it to take orders on the phone, or to write messages. One day, they inadvertently stick the pen behind their ear, like they have hundreds of times before, and end up leaving for the day with it still there. On their way home, they stop by their church in West Columbia to pick up their child. A sign in sheet is on the counter with no pen, but luckily they have your pen behind their ear. After signing the sheet, their child runs up and gives them a hug, making them set the pen down and forget about it. The next six people picking up their child notice how nice and smoothly the pen writes and looks at your company name and info on the pen. The worker at the church takes up the sign in sheet and not thinking about it, puts the pen behind her ear where it stays until she gets in her car to leave. She leaves it in her car and when she goes by her bank in Lexington the next day, uses it to fill out her deposit slip. She notices how nice and smoothly it writes and sees your company name on it, but gets distracted and puts it in the return tube and the pen makes its way to the teller.
On and on it goes for your pen. Now your company name is associated with a feeling of satisfaction, because of how nicely it writes, with many more people than the one who you originally gave the pen to. This is why it is important to choose quality products to hand out with your logo and information on it. If you hand out junk that will easily break, then people may associate your company with the same craftsmanship.
Reason 6: The Ability to Increase Customer Loyalty
I do not think anyone has ever become a loyal customer solely because of an ad specialty product, but ad specialty products can help your company build on customer loyalty. With the huge selection of ad specialty products, you are able to pick ones that support the same causes that your company does. Are you patriotic? Pick promotional items that are manufactured solely in the USA. Are you eco friendly? Choose products made only of recycled material. Using ad specialty products to connect to your consumer in this way gives your company a personality and is a good way to build customer loyalty.
Reason 7: The Connectability of Promotional Products
Promotional products can help you connect with your clients or future clients. Fads come and go, and advertising specialty product manufacturers like to strike when the iron is hot. Fidget spinners, those little metal or plastic spinners kids went crazy over, were a huge hit and then not in a very short amount of time. Many well known companies branded the toys and sent them out into the public quickly, using the success of the fad to connect with their clients and build on their brand awareness. Now that the fad has died down, eager companies are waiting to take on the next big thing and use it to draw people in. Promotional products are a great way to take advantage of fads and provide people with the latest and greatest gadgets on the market.
Reason 8: The Ability to Target Your Audience
Targeting your audience is what you are shooting for when you begin any marketing campaign. With the usefulness, uniqueness and the many choices of ad specialty products, you can narrowly target clients and leads. Want to target someone in the educational field? Show them the many different choices of lanyards available. Want to approach someone in the medical field? Offer USB drives in the shape of syringes. Or how about the data security field? Show them the rfid wallets that prevent hackers from getting their information. There is a promotional product choice for every type of business out there.
Reason 9: People Use Ad Specialty Products
People use pens to write orders with, USB jump drives to move files from one place to another, hand sanitizer to stay free of germs and tote bags to save the environment. That is what makes ad specialty products such a good choice for your marketing dollars. People use them, and as studies have shown, will keep on using them over and over again, placing your brand in plain sight.
Reason 10: Trust the Results
Eight in 10 consumers own between one and 10 promotional products.
Fifty-three percent of these people use a promotional product at least once a week.
Six in 10 of them keep promotional products for up to two years.
Only one in five people will trash an unwanted promotional product.
Before receiving a promotional product, 55 percent of people had done business with the advertiser.  After receiving a promotional product, 85 percent of people did business with the advertiser.
With nearly six thousand impressions, bags generate more impressions than any other promotional product in the U.S.
Thirty-one percent of U.S. consumers own a promotional bag.
Consumers hang on to promotional products for an average of 6.6 months.
The top five buyers of promotional products are clients in education, finance, not-for-profit, healthcare, and construction.
Promotional items are a perfect fit for any type of business out there. Sometimes it takes a little creative thinking to find the right product for the right company that will spark a flurry of interest, but there is always a good product to give out. If you are unsure of what is out there, or are looking for a certain gift for a certain company, reach out to our team of ad specialty experts at info@myprintsouth.com and see some of the creative products we can suggest.
Would you like more helpful print related articles sent to your inbox? Click here to subscribe to our mailing list and receive our bi-weekly article posts every Tuesday and Thursday.