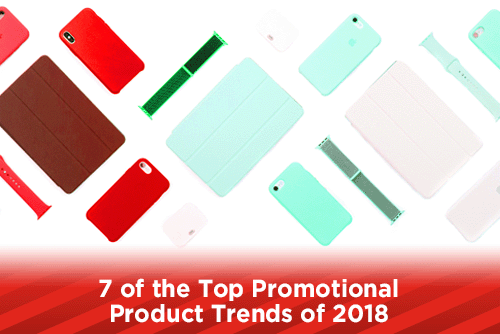 2018 is quickly coming to an end, but you still have time to take advantage of these promotional product trends.
Added Value
With today's lifestyle conscious consumer, passing out any old junk will not get your company the attention you are looking for. People will use and keep items that add value to their life. The Sebago Packable Hammock is an example of a good lifestyle item. It promotes getting outdoors, taking a break and enjoying life. This Folding Chair comes with a built in pocket and is great for sporting events, outdoor concerts, camping and trips Folly beach in Charleston, South Carolina. Choosing to give out products that enrich someone's life is a great way to boost awareness of your brand.
Wellness
This is a trend that continues to be in the top 10 year after year. Keto diets, triathlons, crossfit, you name it and people are doing it. Capitalize on the wellness craze by using products like this Small Round Gel Beads Hot/Cold Pack. It can be microwaved for heat or placed in the freezer to work as a cold compress. Made from non toxic materials, it can be reused over and over. Another popular wellness promotional item is the Yoga Mat and Carrying Case. With your logo and information printed on the case, this item will help promote your brand with health conscious consumers.
Wearable Technology
The wearable technology tend can also work in conjunction with the wellness trend by using the Fitness Smart Watch with Touch Screen. This tracker works with an app on your smartphone and displays the date, time, pedometer, distance traveled, steps taken, calories calculation, and call & message display. Another popular piece of wearable technology are Touch Screen Gloves. Using conductive threads on the fingertips, touch screen gloves will help keep hands warm while you navigate through your touch screen device. As wearable technology advances, we will be sure to see these items in the top trends of years to come.
Wireless Gadgets
The popularity of smartphones and tablets have set off a flood of wireless gadgets to hit the market. The Zoom Wireless Charging Base works with all the latest phones that have built in wireless charging capability, allowing users to jut place their smart phones on the base to charge. Combine the charger with a set of Wireless Bluetooth Earbuds with Power Base and your clients can listen to their favorite music app while charging their phone. One of the coolest "wireless" gadgets to emerge is the Rocketbook Wave Executive. This e-notebook allows you to write your notes with a special ink pen. Once your notes are done, snap a picture with your smartphone. Icons at the bottom of the sheets tell the app which application you want the notes to be saved to, Google Docs, Dropbox, and other apps. After you use all of the pages, toss the notebook into the microwave for 30 seconds and all of the ink disappears! Wireless gadgets will be around for a long time to come.
Gift Sets
Always in the top 10 trends year after year, gift sets come in all different sizes, price ranges and products. Combining multiple items into one convenient set, like this Journal, Power Bank And Pen Gift Set, creates an affordable and usable gift for your clients. This Winter Warmth Kit, includes a candle, hot chocolate and mug, making it a great gift for the upcoming holiday season. For a more unique gift set, choose this NY City Sidewalks Gift Basket. It includes Big Apple Jelly Beans, New York Bagel Crisps, New York Popcorn, Central Perk Coffee, New York Cookies, Manhattan Mints, New York Mixed Nuts, Snack Mix, Chocolates and a Map of New York City all in a nice tote bag. Of course you can always create your own gift set with any products from our lineup.
Experiences
One way to offer an experience using promotional products would be to use products like the FUJIFILM Instax Mini 8 Camera. These small digital cameras come with a built in printer that allows the user to instantly print small photos. This allows the user to capture and print experiences to show off to the world. Augmented reality is another experience trend that is gaining strength. These Wild Weather 2019 Calendars use an app on your smartphone to turn static images of storms into moving videos. Look for more augmented reality promotional products to be huge in the coming years.
Environmentally Friendly
Concerns for the environment is a trend everyone should get behind. To help the environment and show others that your company cares, choose this Eco Non-Woven Tote bag. Made of PET (polyethylene terephthalate) and polyester laminate and 80% recycled post-consumer plastic bottles, this tote is perfect for grocery shopping or carrying your things to the beach. Pair the tote bag with the 28 oz. Eco-Polyclean Bottle to give your clients a great eco friendly set. This water bottle is also made with PET plastic material, and features a contoured shape that fits most vehicle drink holders. Almost every category of promotional products carry an eco friendly version, making it easy for you to show your concern over the environment.
Finding the most trending promotional products of the year is easy with Google, but if you want expert advice for choosing the right product for your brand, contact one of our specialists here at PrintSouth. We can help you stay up to date with the popular trends and find the perfect gift for your company. It also helps that we can print some special cards to go along with your gift to further your brand awareness.
JOIN US!

Click here to subscribe to our mailing list if you would you like receive more helpful print related articles in your inbox every Tuesday and Thursday.