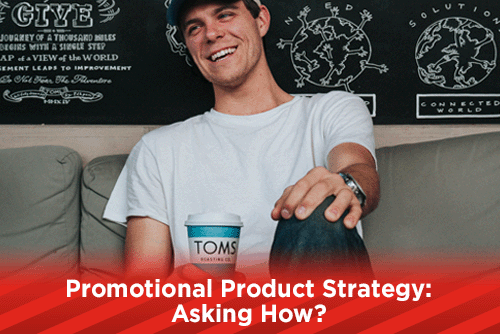 You have many choices when it comes to spending your advertising dollars, radio, television, online, print, the list goes on and on. Choosing the direction you want your marketing plan to go is tough, and you can spend thousands on the wrong medium. A good question to ask yourself when planning your marketing strategy is "How?" How can this medium help me achieve my goals? How can this area of advertising help bring in new leads or strengthen the relationships I currently have? Today, we'll look at ways that promotional products can help answer your "How?" questions.
How Can Promotional Products Help Me Reach New Clients and Leads?
The biggest purpose of marketing is to bring in new leads and/or get your current clients to purchase more. Using promotional products can help you do both. Using any of the top 10 promotional products (apparel, pens, totes, drinkware, magnets, notebooks, sporting goods, desk accessories, computer accessories and tools) as a leave behind, an item given to a client to remind them of your product or service, can help you boost your brand awareness. This tactic works for current clients also.
How Can Promotional Products Introduce New Products or Services?
Another good marketing use of promotional products is to introduce new products or services. It can be easy to find promotional items that tie in with a new product you are about to release. There are a couple Pelican's Snoballs franchises in the West Columbia and Lexington, South Carolina areas that sell sno cones. Let's say they want to introduce a hot new flavor - habanero watermelon - to the community. They could purchase some red round stress balls with their logo imprinted to give away at local events. Or use a custom printed tire gauge to help introduce Discount Tire of West Columbia's new service - "No Wait Tire Inflation." (Please note, these are fictitious services and products, for example only.)
How Can Promotional Products Be Creative?
In today's promotional product market, you don't have to give out the same ole stuff that everyone else gives out. There's such a huge assortment of promotional products out there, that you can certainly find one that matches the creativeness and uniqueness of your brand. Cardboard VR Glasses are one of the many products that you can add your own imprint to for creativity. If you are looking for a truly unique product to give out, give them a tattoo! We're not talking about sending Tiny to your clients office with his tattoo gun, we're talking about these custom printed Tattoo Sleeves.
How Do Promotional Products Increase Brand Awareness?
Promotional products are all about brand awareness! Everything from your logo imprint to the color of the product you choose to give out relates to the brand of your company. Take apparel for example. There are multiple stories on Reddit's r/IDon'tWorkHereLady where a consumer walks into a big box store wearing the same colored clothing as the uniform of an employee and gets confused for an employee. Being mistaken for an employee by what you are wearing is the power of combining apparel with your brand. People associate colors with the brand. Having a specific uniform, even if it's just an embroidered polo with your logo and khaki pants, can boost awareness in and out of the office.
How Do Promotional Products Increase Employee Happiness?
Employee incentives, like monthly giveaways for top producers or quarterly employee of the quarter, are great uses of promotional products. Receiving accolades from your employer is a huge moral booster. Including a nice gift, like a Pelican Cooler or a Tailgate party pack, helps show your appreciation even more. Promotional products also make great welcome kits for new employees. Include a t-shirt or polo with your logo along with other items they can use in their everyday lives.
How Are Promotional Products a Good ROI?
Studies have shown that promotional products have a better return on their investment than other means of advertising. When you think about it, television, radio and magazine ads can reach a certain amount of people. Unless your ad is very memorable, you'd have to run it multiple times for it to be successful. With everyday use promotional products like pens or tote bags, your brand and information is being advertised every time the product is used in public. If it's a great promotional item, people will even put it out on social media, helping your brand get more exposure. All for a nominal investment.
Asking and knowing "How" your promotional product will be used and the return it can bring to your company, helps you plan your strategy and implement its use within your marketing plan. Being successful with promotional products takes time to find the right product, and also ways to track the effectiveness of the product you choose. A good promotional product strategy will help boost the brand of your company and generate new sales and leads. If you need help deciding the best product to choose, we'd be glad to give you our expert input to help you with your decision. Use the contact form on our Ad Specialty page to get in touch with one of our sales people.
Would you like more helpful print related articles sent to your inbox? Click here to subscribe to our mailing list and receive our bi-weekly article posts every Tuesday and Thursday.