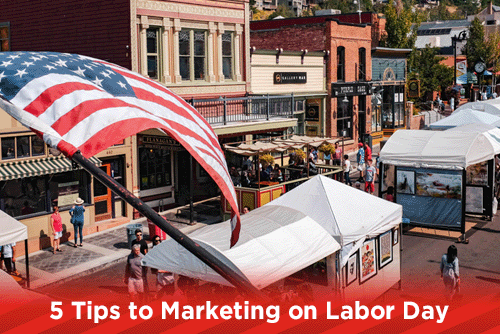 Happy Labor Day! If you didn't know, Labor Day is a United States holiday which celebrates the social and economic achievements of the labor movement. On this day, we take time to commemorate the valuable contributions which hard-working Americans have made to the nation's prosperity, strength and overall well-being.
If you're in the small business world, you know today can be one of the biggest times of the year to market your brand and sell products or services. People all around the country are looking for the next big sale, promotion or reason to buy from a business. This week is the ideal time to motivate current customers and inspire potential customers. Ask any small business owner and they'll say that Labor Day sales are only as good as Labor Day marketing. But if you haven't started yet, it's still not too late! Here are some ideas for how you can market on Labor Day.
1. Be active on social media.
First and foremost, holidays like Labor Day are the
perfect
time for small businesses to be active on social media. And we're not talking about posting the cheesy "Happy Labor Day" graphic on your Facebook page—we're talking about truly taking time to engage with the social media audience. Share a photo celebrating Labor Day, ask followers what their Labor Day plans are or host a Labor Day photo contest. If you host a sale this holiday, share about the sale on your pages, show background video of setting up and discuss the aftermath from the sale. The more you can engage with your audience through social media today, the better.
2. Send out an email campaign.
If you haven't sent out a Labor Day email campaign yet, fret not! It's not too late to get on board. While an email campaign definitely works
before
Labor Day, it can also be a great choice for
after
the holiday. Send out an email campaign thanking customers for their purchases over the holiday weekend, then invite them into your upcoming sales and promotions. Use the time during and following Labor Day to check in with current customers and continue to build a meaningful relationship with them through an email campaign.
3. Give something away.
There's no doubt about it—people love free stuff. If you haven't planned anything for your Labor Day marketing campaign up until this point, you can always give something away. Whether it's as simple as a free branded T-shirt, or as complicated as a free product or service, giving something away is a great way to catch consumers' attention and turn them into customers. Host a giveaway, raffle or contest in the spirit of the holiday, either online or in person. No matter how you decide to host your contest, a giveaway always grabs customers' attention.
4. Host an event.
Speaking of hosting, use today as an opportunity to host an event. If the business has a storefront, a Labor Day event is the perfect way to grab people's attention from the street and draw them into the building. Get to know your target audience, then be creative with how you host the event. For instance, an insurance company might host a Labor Day motorcycle party, where everyone who shows up on a bike gains access to free food and music. Then, send guests home with information about motorcycle insurance rates. Whatever your niche is—and whomever your target audience is—find an event which will draw them in and keep them there.
5. Take advantage of the season.
Finally, as Labor Day comes to a close, don't forget to take advantage of the season. Now is an ideal time for marketing, as students go back to school, Halloween is just around the corner and families prepare to buckle down for winter. Take advantage of this season in your marketing efforts by embracing every shift and change. Be flexible, engaging and most importantly personable to your customers as the season shifts from Labor Day to New Year's Day. Labor Day is here and ready for your marketing efforts. Even if you have nothing prepared at this point, it's not too late to jump on board. Take advantage of some of these Labor Day marketing ideas, and use today to jumpstart your marketing efforts and grow the business.
Would you like more helpful print related articles sent to your inbox? Click here to subscribe to our mailing list and receive our bi-weekly article posts every Tuesday and Thursday.