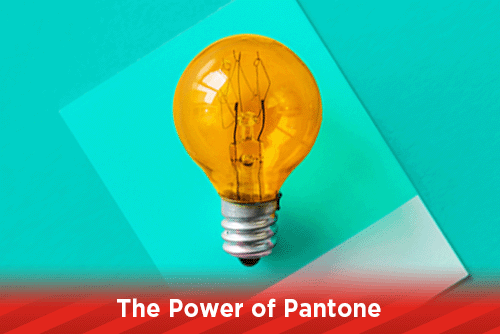 In an earlier blog post we touched on the color gamut differences of CMYK vs RGB, and how the gamut range of RGB is larger than that of CMYK meaning that some colors are not able to be reproduced very well in CMYK. So what can you do if you have chosen a color set for your brand and find out that one or more of your colors will look muted and muddy when printed in CMYK? In this instance, you can rely on the power of Pantone colors.
What Are Pantone Colors
In 1963, the Pantone company introduced a system that allowed printing companies to match a set of colors. Called the Pantone Matching System (PMS), this system provided a standardization of colors that could be mixed with different pigments to match a unique color. Colors are listed by a number making it easy to designate which PMS color you want to use, for instance, PMS 125 is a yellow gold color used by sports team, PMS 485 is a bright red, and PMS Black 5 is a warm reddish black color. Pantone produces color books for all of their colors including metallics and neons, in both coated and uncoated to show how the colors look on different papers. Adobe also includes Pantone colors in its software making it easy for you to pick a PMS color for your design.
Why Use Pantone Colors
The main use of selecting a Pantone color is to ensure that the color can remain consistent. Selecting and using a Pantone color for your logo or brand colors will help your color look the same no matter where it is printed, or any other marketing medium (some ad specialty products allow Pantone colors). Pantone provides a guide for mixing inks to match PMS color, or you can order the Pantone inks from your ink supplier.
One other reason to use Pantone colors is the wide color gamut that PMS colors provide. Pantone colors are generally brighter than their CMYK conversion builds, and there are no matching CMYK values for metallics or neon colors. Reflex blue is a good example of this. The PMS Reflex Blue is a deep rich blue color, where the CMYK build can tend to look purple.
Printing CMYK + Pantone
You can combine printing CMYK with a Pantone color if you are looking to add a pop of color to your design. Please note that adding a 5th or 6th color will increase the cost of your print job and some print shops may not be able to print it at all. If you are printing CMYK + a Pantone color, check with your service provider to see if any trapping issues will come up and how to handle them. Depending on the color of the Pantone ink, on the printing press, the Pantone color will be in the first printing unit and the process will follow. For example, printing PMS 877 metallic silver in the first uint allows the process colors to sit on top of the silver. If you ran the silver after the process colors, because of the opacity of the ink, the silver would sit on top of the process and not look good.
Pantone Colors In Other Industries
Being experts in color, Pantone has branched out from printing inks and into the fashion and interior design industries. Beginning in 2000, Pantone started choosing a "color of the year." The color that is chosen is highly regarded by different industries and designers as trendsetting and can set the design tone for the following year. Many of the colors Pantone creates for the other industries, industrial, fashion and interior designs, do not have a matching Pantone ink color, or a good CMYK build.
Pantone has a huge stake in many different industries, but their expert knowledge of color makes them a very trusted company. If you are a graphic designer, then you have more than likely used their products to make your work colorful. Be on the lookout for 2020's color of the year this December when all of the color experts get together in Europe to decide and vote. Here at Print South, we'll be watching and will keep you updated on their choice.