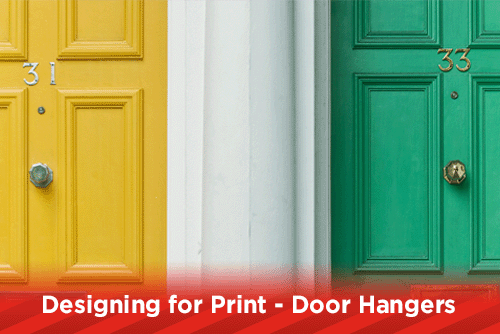 Looking for an inexpensive way to guarantee people will see your advertisement or coupons? Door hangers are your answer. If you run a restaurant, landscaping business, cut down trees or are a real estate agent, door hangers won't break your bank and are easy to distribute to neighborhoods in your local area. Here are a few suggestions on how to use door hangers to advertise your services or company.
Advertise Your Services
Highlight what your business does best! One way to show potential clients what you are all about is to show before and after photos. This is perfect for landscapers and yard businesses. For restaurants, mouthwatering pictures can bring new patrons to your shop. Advertise your weekly specials or highlight your best sellers. No matter what your business is, be sure to include your address, phone number and website so people can find you. Hours of operation is also beneficial to have printed on your door hanger.
Open House Invitations
Real estate agents who are having an open house in a neighborhood can use door hangers to attract more people to the event. Using this tactic can get more visitors than just having a yard sign promoting the open house. Take some time to walk the neighborhood and knock on doors, handing out the open house invitation to people you meet, while leaving the door hangers on the doors of those who are not home. Restaurant and business owners can do the same thing when you are opening your shop in a new neighborhood or are holding an event.
Personal Messages
The end result of any kind of advertising, including door hangers, is to bring in more sales for your company. You do not always have to offer a special or coupon on your hanger in order to do that. A personal message from your company to the homeowners within the area you service is a great way to show them that you value their patronage. Using a mail list and variable data printing (VDP), you can personalize the door hangers to include the names of the homeowners within the areas you want to distribute them. With fall coming up here in the Columbia, South Carolina area, a special holiday message would make another great way to personalize your door hangers.
Just Sold Listings
Door hangers are great for real estate agents to build their buyer and seller leads. Placing door hangers with a few of your just sold listings lets people know what your capabilities are. Highlighting the amount of days on the market and how you marketed the homes you sold can build trust with your future clients.
Door hangers get attention!
Don't waste the opportunity by having confusing information on the hangers. You want your message to get as much attention as the door hanger itself. Start by having bright colors on your design to get it noticed. Next, the message of your door hanger should be prominent and include a call to action (CTA). Whether it is to bring attention to your work in the neighborhood, incentive to bring clients to your restaurant or business, or just a thank you, the call to action is the most important part of the advertisement. Make it clear and easy to follow.
Looking for a standard (3.5"x8.5") door hanger template? Download a PDF here.
Door Hanger Add-ons
Increase the visibility of your door hanger by adding something tangible to the hanger.
Coupons
Coupons are a great incentive to bring people to your business or restaurant. Giving someone a discount or offering something free increases the likelihood that your marketing peice stays out of the trash can.
Magnets
You can attach a custom printed magnet with your contact information on it with a glue dot. Once the opportunity printed on the door hanger is over, your magnet has the chance to sit on the refrigerator and serve as a reminder of your company.
Business Cards
Just like the magnets mentioned above, adding your business card to the door hanger gives the recipients an extra reminder for your company and services. You can print your business card at the bottom of the door hanger and have it perforated to be easily torn off, or you can attach it with a glue dot.
The marketing use of door hangers depends on your company or services that you offer. For the right company, landscapers, restaurants, roofers, painters, real estate agents, mechanics, preschools, dentists, or any other service oriented business, door hangers can help give you a boost in your local market. To learn how door hangers can help your business bring in more profit, contact one of our experts at PrintSouth Printing.
JOIN US!

Click here to subscribe to our mailing list if you would you like receive more helpful print related articles in your inbox every Tuesday and Thursday.