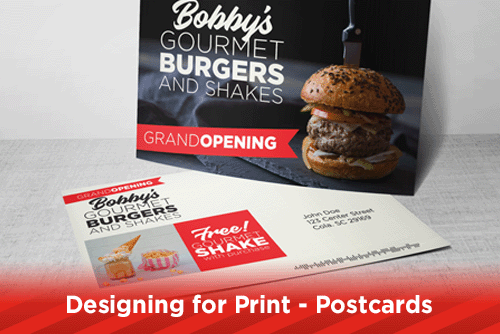 How effective is your postcard marketing plan/? How effective can postcards be for your marketing plan? Direct mail has one of the highest response rate of all of the marketing avenues available. If you are not having much success with postcards, here are a few ideas for your next mailing.
Which Companies Utilize Postcards?
Any company can use postcards as part of their direct mail marketing plan. Small mom and pop businesses like the Springdale House & Gardens, located in West Columbia, South Carolina, can offer coupons or advertise special rates that can easily reach potential clients with a postcard direct mail campaign. Even tech giants like Google rely on sending out postcards offering special pricing on adwords. Mechanics, restaurants, salons, jewelry stores, bookstores, CPA's, schools, churches, and any business that offers a product or service would benefit from using a postcard mailing campaign.
Postcard Uses
Coupons - entice people to come to your business with money saving coupons
Promote a Sale - let locals know of upcoming sales with a postcard
Advocate - promote a cause you care about using postcards in your area
Showcase a Product Launch - spread the word on your new product or service
Thank You - celebrate your success by thanking your customers
Event Showcase - let prior attendees and others know about upcoming events
Sold Real Estate - promote the homes sold in a neighborhood
To get the best return out of your postcard campaigns, you should follow a few steps to make sure your postcards meet postal regulations and are designed to catch the attention of the recipient. If you need expert help in any step of your planning and design stages, reach out to one of our skilled designers or sales force here at PrintSouth Printing, and we would be glad to guide you in the right direction.
Postcard Sizes
Before you decide on the size of your postcard, it helps to understand how the post office charges to mail the card. According to the USPS website - to qualify for mailing at the First-Class Mail postcard price, it must be:
Rectangular
At least 3-1/2 inches high x 5 inches long x 0.007 inch thick
No more than 4-1/4 inches high x 6 inches long x 0.016 inches thick
If your mail piece does not meet the dimensions above, then the Postal Service considers it a letter and letter-size postage is charged. You can mail larger sized postcards, but they will not receive the First-Class Mail rate. You could use the USPS Marketing Mail rates, but there are regulations there also. Always check with the post office for rates, or your printing company for suggestions on the right size for your budget before you begin designing your postcard.
Common postcard sizes
6 x 4¼
7 x 5
8½ x 6
9 x 6
11 x 6
​​​​​​​Paper Weights
The weight of the paper you print your postcards on can affect the cost of mailing the cards. You want your postcard to be sturdy enough for mailing, but not so heavy that you will incur a higher postage. Most postcards are printed on 80# or 100# cover stock. Text weight paper is too light for the machinery the post office uses. Using paper heavier than 100# cover can cost more than you want to pay for mailing. According to the USPS website, in order to use First-Class Mail prices, your postcard needs to be no larger than 6x4.25 and be under 0.016" thick. Again, check with the post office for rates as they could change.
Tips on Designing Postcards
Now that you know what size to make your postcard and the weight of paper you want to print on, it's time to design the card. For a postcard to be effective, you need to grab the attention of the recipient.
Easy to Understand
Don't put a bunch of text and images on your postcard making it hard to read and understand. Keep it simple. Use good colors, or a good headline, or a great coupon to get the attention of the person receiving the postcard. The recipient should be able to understand what the postcard is offering or trying to show with just a glance.
Strong Graphics/Imagery
Eye catching graphics and images are necessary with postcards. Most often, the recipient will receive the postcard with other mail so your offer or advertisement needs to stand out. Bold fonts and bright colors can draw attention to your postcard, while a clear message and direction can invoke action on the recipients part.
Use a Strong Call To Action
Your postcard should include a clear call to action (CTA) for the recipient to perform. Using words like "Act Now!" and "Super Savings" are great openings to draw attention to your call to action, but you need to direct the person receiving the postcard on how to save or what to do next. A call to action is also good for tracking the efficiency of your postcard campaign. Creating CTA's like "Use this coupon code for $20 off your next purchase of $50 or more" and keeping the coupons when they are used, allows you to see how many people received and used the postcards. You can also add landing pages to your CTA by saying "Visit our website at www.yourwebsite.com/coupon" and tracking how many visits you have during the campaign. Without using and tracking your CTA, it will be hard to see the return on your investment of your postcard marketing campaign.
Personalize Your Message
Using VDP (Variable Data Printing), you can personalize the postcard with the recipient's name, or an offer specifically for people who have visited your business. Matching a mailing list to your client list can allow you to personalize your postcard for those who have visited your business in the past. Why personalize? Studies and questionnaires have shown that personalized postcards are looked at more closely than unpersonalized one. People are also more likely to use the offer from a personalized postcard, giving you a better return on your marketing investment.
Proofread
Do not send your postcard mailing out without proofing it multiple times. Be sure that your contact information, phone, address, website, is correct. A wrong phone number can be missed sales. Use correct grammar as well as correct spelling for your verbiage. Using the wrong spelling of their, there and they're gives your postcard and message an unprofessional feel.
Leave Room for USPS Mail Information
The US Post Office has strict guidelines on clear areas that are needed on your postcard or mailing for their information. If your postcard has copy or information within these areas needed by the postal service, you could incur higher postage fees. For a sample guide of the areas to leave open, download a PDF guide for the size postcard you are producing.
6 x 4¼ Postcard Guideline (PDF)
7 x 5 Postcard Guideline (PDF)
8½ x 6 Postcard Guideline (PDF)
6 x 9 Postcard Guideline (PDF)
6 x 11 Postcard Guideline (PDF)
Postal regulations can change, so please double check with the USPS or mail house that will be sending your postcards out to make sure these measurements are still good. Contact one of our mailing experts at PrintSouth Printing if you have any questions on your design.
Overload Your List
On average, the response rate for direct mail is around 4.4%. The more people you send your postcards to, the better chance that your response rate will be higher. Choose a mail list that gives you the most addresses for your budget.
Creating and executing a postcard mailing can be very profitable for your company. Smaller postcards are relatively inexpensive and have a better return rate than that of other marketing avenues. The lower cost of postcards allows you to do multiple mailings to the same addresses further increasing your brands exposure and the opportunity for higher sales and visitors to your business.
JOIN US!
Click here to subscribe to our mailing list
if you would you like receive more helpful print related articles in your inbox every Tuesday and Thursday.