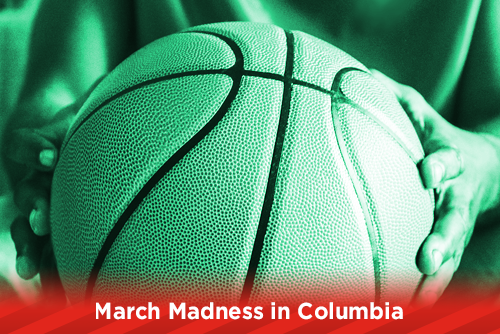 It's March! Time for seasons to change, daylight savings time to go into effect, and here in Columbia, South Carolina, we are gearing up for the 2019 NCAA Men's Basketball Tournament!
If you are not aware, the Colonial Life Arena is one of eight arenas that will be hosting the 1st and 2nd rounds of the tournament on March 22nd and 24th. As of today's date, there are a number of teams that could play in Columbia including Duke, Tennessee, and Virginia. Our South Carolina Gamecocks are right on the edge of joining these teams in the tournament, which if the Gamecocks do get in, it will be their second trip to the big dance in two years.
The 2019 NCAA Men's Basketball Tournament could bring up to 25,000 crazed basketball fans to the Midlands area who will get to experience everything Columbia has to offer. We are happy that Columbia will get a huge financial boost from the exposure the tournament will bring, but we are hoping that the west side of the river will see a large financial gain too. Here is a list of great things we like to do in the Cayce, and West Columbia area:
Riverfront Park in Columbia has lots of room for walkers, joggers, runners, and cyclists, but at only 2.5 miles, it's a little short. The Cayce West Columbia Riverwalk is much longer at 8 miles! The trail is a little less wide but offers great scenic views of the Congaree River. As you stroll under the Blossom Street bridge and through the natural flood plains of the river, be on the lookout for carved trees created by local chainsaw artist Wade Geddings. His work can be located throughout the riverwalk and includes bears, turtles, owls, and lizards.
Columbia's Vista area has plenty of restaurants, bars, and entertainment venues to fill your time between games, but with long wait times, you might miss the next tip-off. Head down Gervais or Blossom Street to State Street in Cayce to visit West Columbia's River District area. Here are a couple of our favorites:
A great cafe and espresso bar, Cafe Strudel has plenty of good eats to satisfy your hunger. Open until 10 PM on Friday and Saturday, and 9 PM on Sunday be sure to try their hangover hashbrowns or their duck nachos!
This awesome hole in the wall wine bar offers delicious dishes for dinner and brunch. Their chicken and waffles are killer and with a menu that changes regularly, you will always find something to satisfy your hunger.
A hotspot for local, regional and big bands, New Brookland Tavern offers drinks and live music seven nights a week. During the tournament, New Brookland will host an Evening with Tyler Ramsey of Band of Horses. For tickets, you can visit New Brooklands website at newbrooklandtavern.com
Located in the Parklane Plaza shopping center, next to D's Wings is Bowlero Cayce. A multi-Laned bowling and arcade venue, Bowlero Cayce offers great food and drinks while you bowl with your friends. Their grand opening is on March 16th which is only a week before the tournament.
If you are looking to visit Columbia and want to leave your car parked, jump on the Soda Cap Connector to visit the Cayce, West Columbia area. This FREE bus system is designed to provide your easy travels between the Vista area and businesses along State Street and Alexander Road. Just hop on Soda Cap 1 to visit the Cayce side. This service runs every thirty minutes weekly. The Soda Cap Connector also connects Segra Park and the Bull Street District with the Vista on gamedays during the Fireflies season.
A favorite watering hole of some of our employees at PrintSouth Printing, Steel Hands Brewery has great tasting, locally brewed beers on tap. From the tasty Coffee Lager, which also includes coffee locally roasted in Columbia, to Foreman Golden Ale, there is something available for everyone! If you are into bluegrass music, Steel Hands will have live music by Pickled Holler/Charles Riley on Friday, March 22nd.
We hope you enjoy your visit to Columbia for the tournament, and we hope that our southern hospitality will get you to visit our great city again in the future. Columbia and its surrounding areas work hard to bring tourists and businesses here to enjoy what those of us who have lived here all of our lives already enjoy - a laid back city with lots of fun things to do.
JOIN US!
Click here to subscribe to our mailing list
if you would you like receive more helpful print related articles in your inbox every week.