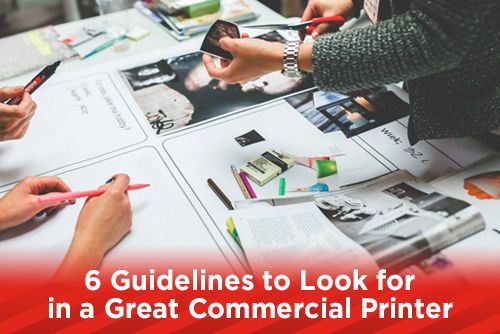 It's tough to find a great commercial printer in today's competitive market. With online print companies, you tend to exchange price for quality or customer service. Out of state print shops could only save you on sales tax, but you're left with relying on their expertise on color and paper choices without press checking. This post will give you some ideas on what areas to look for when choosing a great commercial printer.
Find a company that listens to your needs.
The most important thing to keep in mind when searching for the right service provider is relationship. You want to partner with a company that you can contact at any time and get answers for the project you are working on. A great relationship with your sales person, your customer service representative and others at the company can really help you understand the process your project goes through.
Remember, this relationship goes both ways. You know how you want your project to look, but rely on the expertise of the commercial printer. Make sure you partner with a company that will listen to you too.
Find a company that helps.
Your project is very important to you or your clients and you want it to look the best it can. You may have some printed samples of how you want the project to look but you are not sure if your images will reproduce as brilliantly as you want. The right commercial printer can help you choose the correct paper to make your project shine. Commercial printers have close relationships with their vendors and can suggest options that you may not have thought of.
Find a company that has experience.
The age of a company may not show the experience of their employees. Choosing a commercial printer that has many years of experience in all of its positions is very beneficial for your needs. A seasoned Customer Service Representative knows the ins and outs of the printing business and can quickly help you with a question or concern; a veteran Electronic Prepress Technician can help you with your page layout and design or suggest fonts and colors that work; a Pressmen with years in the industry will know how to get your colors where they need to be and can even adjust colors while still on the press; bindery workers will assemble your job with quickness and accuracy. Each department of a knowledgeable printing company will work with one another to produce your project professionally and on time.
Find a company with connections.
When searching for a commercial printer, you want a company that can provide you products outside of printing. Print media is an integral part of today's marketing strategy, but there are other options available and having a print company that can get what you need is very important.
Ad specialty products can provide you with many options to promote your brand. Steel tumblers, koozies, imprinted pens and magnets are huge in the marketplace.
Signs and banners also help promote your business. A good commercial printer will also offer large format printing.
Website consultation, design, coding and hosting work alongside print, ad specialty products and signs to put your brand in front of a global audience.
Having the ability to help you with all of these options under one roof makes it easier for you to be consistent with your branding and marketing. If your service provider does not offer these services to you, don't hesitate to ask for suggestions. Chances are they can recommend someone local.
Find a company that takes pride in their work.
When finding a printer you can partner with, it's important that you see examples of their work in print, ad specialty, large format and other areas offered. Set up a meeting with a salesperson and ask them to bring along magazine, business cards, letterhead, business stationery, pocket folder and other samples on many different types of paper. You can even ask for paper samples to be left behind to reference for future projects. The company should bring their best looking items to show you; if the items brought look dull or messy, then there is little pride in their work.
Find a company that is ready for growth.
Many areas of print have seen a decline since the introduction of the web, but if you think print is dead, you are missing a very valuable revenue for your company. According to reports from the US Census Bureau, "New orders for manufactured goods in December, up six of the last seven months, increased $8.5 billion or 1.7 percent to $498.2 billion." Print is certainly not dead!
One huge part of the increase in print is Variable Data Printing, or Variable Information Printing. VDP is a digital printing capability allowing on-demand printing. Text, images and graphics can be changed from one printed piece to another. Using VDP and mail services, you can reach your target audience on a very personal level. When searching for a commercial printer, you want a company that is looking forward and is taking steps to embrace the future.
PrintSouth Printing, Inc. has been a leader in commercial printing for over 25 years. We mainly service the areas around Columbia and Charleston, South Carolina, but we have many clients that are outside of our state. We take pride in hiring knowledgeable employees who are great at their profession. To speak to one of our representatives, please use our online contact form or give us a call at (803) 796-2619.
Stay up to date by subscribing to our mailing list.